Composite, MoMath's exciting temporary exhibition gallery, serves as the home to a diverse collection of shows and installations that highlight the breadth of human pursuits that mathematics can illuminate. Visiting Composite is free with admission to the Museum.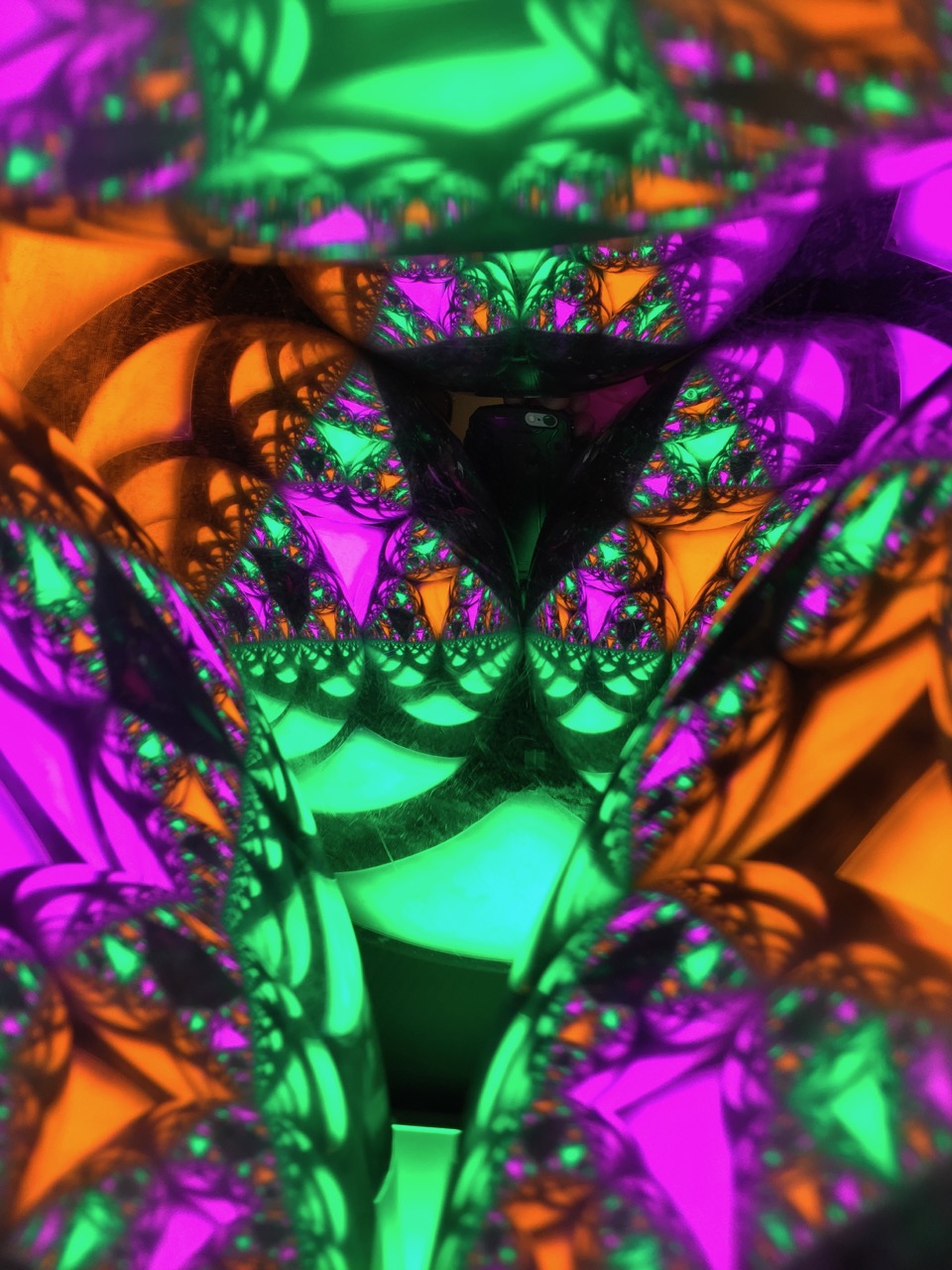 Now open: MoMath presents Reflections, an exploration of the intriguing geometries of the reflected world. Reflections have fascinated humanity since time immemorial. The nature of the image we see in a mirror, or in a still body of water, can seem paradoxical and mysterious. Through a series of engaging interactive experiences, Reflections explores the intriguing geometries of the reflected world, revealing profound truths about the very nature of space.
Reflections features the work of artists Michael Curry and Scott Kim; MoMath is also grateful for the contributions of David Sweet and Alan White.
Recently featured in Composite
Eroded Theories: The sculptures of Antal Kelle ArtFormer
Award-winning artist Antal Kelle ArtFormer visited MoMath to discuss his artwork, Helix Opus 124, and to showcase other artworks through a series of photographs from his "Eroded Theories" collection, taken by his daughter, Emese Kelle-Kaleem, and curated by Kristof Fenyvesi.
The Insides of Things: The art of Miguel Berrocal
Featuring the work of Spanish sculptor Miguel Berrocal, MoMath's recent art exhibit The Insides of Things: The Art of Miguel Berrocal showcased the masterful craftsmanship of Berrocal's art. Visitors were able to try their hands at assembling and disassembling a replica of one of Berrocal's stunning works and discovered why the piece had something in common with MoMath's Enigma Café.
The National Museum of Mathematics wishes to thank the late Samuel Sensiper for his donation of the Berrocal collection as well as Michele and Stan Rosen for supporting the opening reception in his memory.
Evoking figures from ancient Egypt to the medieval Silk Road to modern casinos, light artist Matt Brand has captured some of history's most intriguing thinkers. Luminaries featured the world's first large-scale show of lumography — smooth, water-clear lenses whose undulating surfaces rearrange light beams into ghostly morphing pictures. Many years in development, Brand's marriage of sand castle mathematics and swimming pool optics premiered on 2014 December 6, and closed on 2015 April 30.
In Compounding Visions, twins Ryan and Trevor Oakes demonstrated their method for creating spherically concave drawings — a technique that has been described as one of the most original breakthroughs in the rendering of visual space since the Renaissance. The artists spent four weeks creating a new concave drawing of the Flatiron Building from a vantage in Madison Square Park, using their custom curved metal easel and referencing Edward Steichen's haunting iconic 1904 photograph of that then-freshly-built NYC landmark.
___________________
Do you have a great idea for a mathematical art show?  Send it to MoMath! Applications are open here: applycomposite.momath.org.
___________________