Composite, MoMath's exciting temporary exhibition gallery, serves as the home to a diverse collection of shows and installations that highlight the breadth of human pursuits that mathematics can illuminate. Visiting Composite is free with general admission or as a MoMath member.
Antiprisms: Stories of Transformation
Antiprisms: Stories of Transformation is an investigation and celebration of queer identity at the intersection of math, origami, and fashion. Each individual piece follows artist Uyen Nguyen's mission to find authenticity and community, exploring how mathematical concepts parallel this journey.
Antiprisms were the first shape that ever inspired Uyen Nguyen to do mathematical calculations as an essential part of their art. This shape, with its simplicity, its accessibility, and its flat-foldability, was a catalyst for exploring design. The shape itself has come to represent the mission of this exhibition, exploring how queerness pushes boundaries and goes beyond the expectations of our society, existing outside our initial calculations. Antiprisms: Stories of Transformation is an exhibition that expands on this idea, taking narratives from Nguyen's own life and experience coming into the queer community and visually exploring them through mathematics, origami, and fashion. Nguyen includes members of their community with some element of shared identity within these narratives, illuminating how their individual stories create a collective whole, a tapestry of shared joy and strife. Each piece begs questions about the systems that try to define us into clean, hegemonic categories and what happens when you exist beyond that binary.
_____________
Previously featured in Composite
Sculpture: the work of Hans Noë
October 2023
Hans Noë is a 95-year-old Holocaust survivor who may not be so much a hidden master as a hiding one. Over the past several decades, he has been compiling a remarkable body of mathematically flecked, geometrically confounding sculptural work in virtually complete secret. Hans was born in 1928 in Czernowitz, a town of 250,000 in Eastern Europe which saw most of its population of 140,000 Jews perish. After many harrowing years of subterfuge and hiding, often in plain sight, he arrived in NYC where he became a protégé of and assistant to Tony Smith, the eminent sculptor and architect. Though he had some success thereafter building homes for artists in the Hamptons during the fifties and early sixties, the deeply ingrained habit of never calling attention to himself worked somewhat against his success as an architect. After retiring, Hans built an exquisite house of his own up north along the Hudson River and started generating a singular collection of sculptures and maquettes. This show, curated by the veteran arts writer Lawrence Weschler, is the first time he is sharing this work with the public.
MoMath wishes to thank David de Weese for his generosity in sponsoring this show.
Learn more about Hans, his art, and his story in the New York Times article, Sculptures That Don't Have to Add Up to Work Like Magic.
_____________
Pi and Other Mathematical Delights: the Mathematical Art of David Reimann
May 2023 to August 2023
In the solo exhibition Pi and Other Delights, mathematician and artist David Reimann invites the viewer to ponder the concept of number. Reimann's artwork Pi celebrates the famous mathematical constant by connecting pi, the circle, and its non-terminating decimal expansion. The pieces in the ensemble One to One Hundred, as well as several others in the exhibition, are part of an ongoing series of artworks expressing numbers as a geometric arrangement of identical simple visual elements. Additional artworks pay homage to interesting mathematical concepts and inspirational people.
_____________
Traces
April 2022 to May 2023
Traces reveals the hidden patterns created as objects move through space: the pathways of birds in flight, the oars of a kayaker on a still lake, or even the drumsticks of a jazz percussionist. Sometimes periodic but always organized, the traces of these movements — revealed by the technologically savvy artists in this exhibit — are as intriguing as they are beautiful. Take in the stunning visuals, explore the underlying mathematics of the artwork, and manipulate interactive exhibits to create your own unique light traces. Traces features the work of Xavi Bou, Will Calhoun, and Stephen Orlando.
_____________
Building Beauty: The Harmonograph Art of Ivan Moscovich
October 2021 to April 2022
This solo show includes almost three dozen original pieces of Ivan's art — created using his custom-made (and patented) harmonograph — and explores the intersection of the mathematics of Lissajous curves with the aesthetics of beautiful art. Ivan fashioned the harmonograph, an analog drawing machine that uses pens and pendulums, to generate an incredible variety of elegantly swirling, multi-colored graphic configurations known as Lissajous patterns. First exhibited at the Institute of Contemporary Arts in London in 1968, the work it produced was acclaimed as the best math art of the time. Since then, Ivan's creations have been shown in major exhibitions in locations including Berlin, Basel, Mexico City, Tel Aviv, and San Francisco, with a renewed interest in his work in the last few years.
The show includes two working harmonographs for visitors to explore how the artwork is created and make their own works to take home.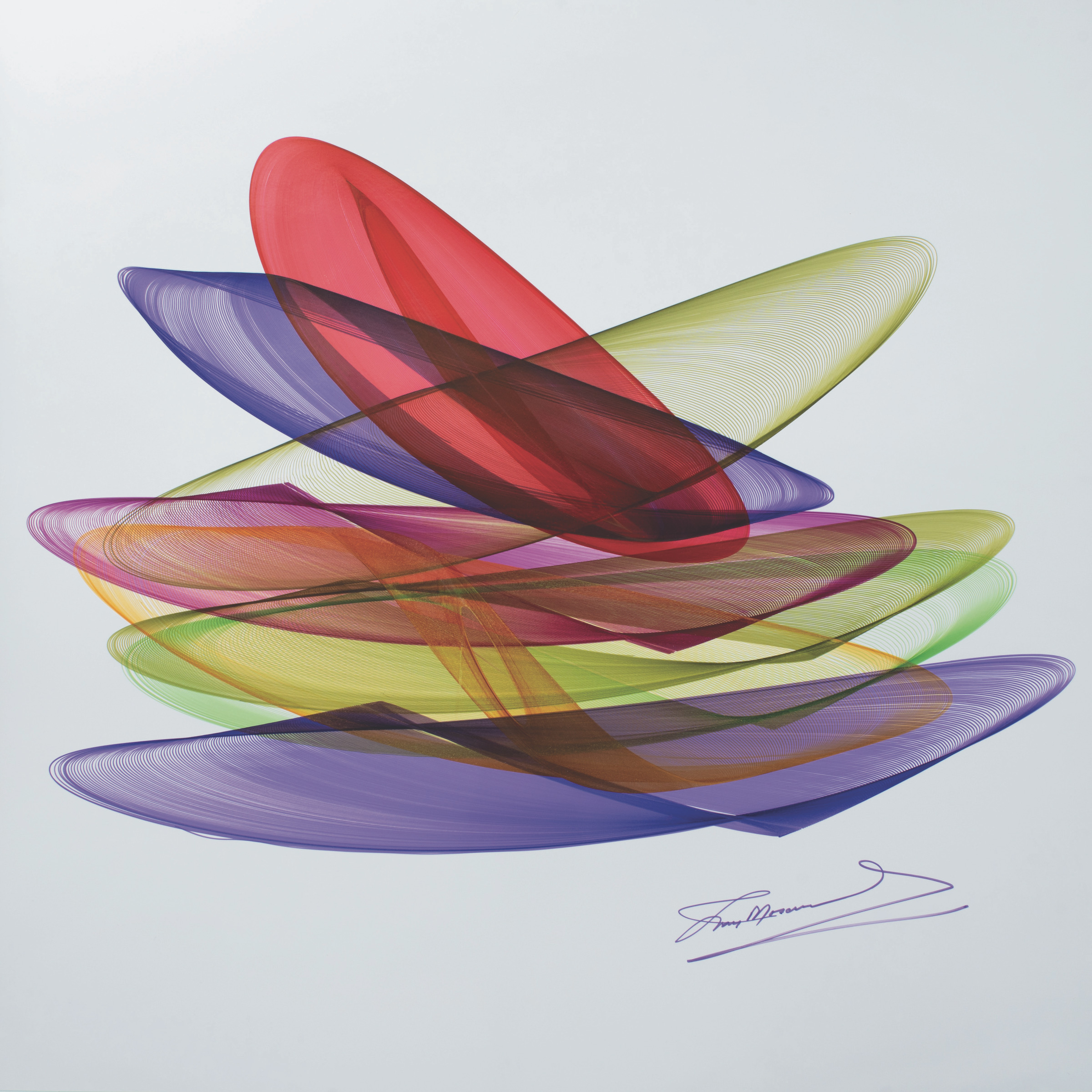 _____________
Alternative Perspectives
July 2021 to October 2021
Anton Bakker takes us on a journey into a world of mathematical beauty with an added twist: a change in perspective seems to change the very reality of the object before you. Anton's sculptures — executed in steel, in bronze, or as digital interactives — fix points in space that, as the eye connects them, reveal harmonious alignments as three-dimensional paths. Lines, curves, knots, spirals, Möbius strips, optical illusions, and fractals — all are explored in this highly engaging show. Bakker's work is complemented by two special pieces: an unusual and surprising work by engineers-turned-artists Walt van Ballegooijen and Hans Kuiper and a creative mathematical sculpture by former Bell Labs scientist Alan White. Rare works by renowned artist M.C. Escher (collection of Rock J Walker / Walker Fine Art) are shown alongside Bakker's stunning works of art, inspired in part by the work of Escher.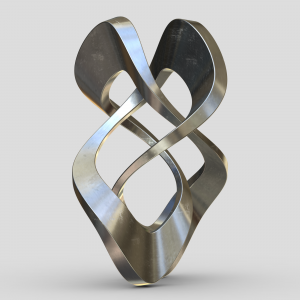 _____________
Venn Pirouettes, the Art of Michael Schultheis
January 2020 to March 2020
Michael Schultheis paints and sculpts using math equations as models for stories about human relationships: limaçon curves that have interior and exterior loops are used to represent a person's interior and exterior, while Venn diagrams demonstrate the way in which humans overlap in their relationships with one another. His work explores the many intersections between mathematics and art.
_____________
Math Unfolded: An Exhibit of Mathematical Origami Art
July 2019 to January 2020
Start with a piece of flat paper, make a few folds, and suddenly you have a landscape of mountains and valleys, shadows and light. Make more folds and you have an object that is deeply surprising in its transformation and artistic beauty. Math Unfolded was a temporary exhibition in Composite, the gallery at MoMath, that demonstrated how origami artists persuade paper to embody the beauty of mathematics. The exhibit featured the creations of more than 20 artists who use mathematical inventions and interpretations to create compelling works of art. This exhibition was curated by Charlene Morrow, the Board Chair of OrigamiUSA, and Wendy Zeichner, the CEO of OrigamiUSA.
_____________
Solid Math
April 2019 to July 2019
Solid Math was a temporary exhibition in Composite, the gallery at MoMath, featuring sculptures based on the geometry of Platonic, Archimedean, and Catalan polyhedra. The inherently precise nature and elegant symmetries of these mathematical forms have made them subjects of fascination for mathematicians over the centuries.
A work of art is very often a balance between constraint and freedom, an exploration of expressive possibilities within a finite set of compositional rules. This exhibition featured the work of mathematically inclined artists — Rinus Roelofs, Bathsheba Grossman, Carlo H. Séquin, Henry Segerman, Phil Webster, and Hans Schepker — who have created works based on the geometry of regular polyhedra. These mathematical forms provide the formal constraints as well as the rhythmic underpinnings for the artists' pieces presented in this show.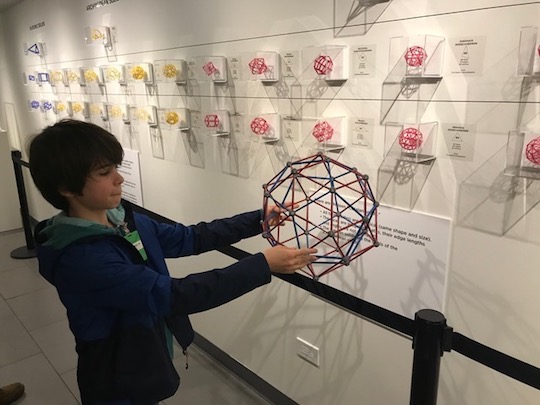 _____________
What's So Funny About Math?
February 2019 to March 2019
What's So Funny About Math? was a temporary exhibition in Composite, the gallery at MoMath, featuring a collection of cartoons related to math and curated by former New Yorker Cartoon Editor and present Cartoon and Humor Editor of Esquire, Bob Mankoff. Each cartoon was paired with commentary from someone interesting who works in a math-related field. Cartoonists featured in the show included Roz Chast, Drew Dernavich, Dana Fradon, James Stevenson, Robert Leighton, Jack Ziegler, Charlie Hankin, Sidney Harris, Nate Fakes, Dan Reynolds, Mike Seddon, Pat Byrnes, Mark Heath, Nick Kim, and of course, the inimitable Bob Mankoff himself.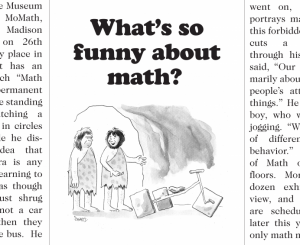 _____________
Reflections
March 2018 to July 2018
MoMath presents Reflections, an exploration of the intriguing geometries of the reflected world. Reflections have fascinated humanity since time immemorial. The nature of the image we see in a mirror, or in a still body of water, can seem paradoxical and mysterious. Through a series of engaging interactive experiences, Reflections explored the intriguing geometries of the reflected world, revealing profound truths about the very nature of space.
Reflections featured the work of artists Michael Curry and Scott Kim; MoMath is also grateful for the contributions of David Sweet and Alan White.
_____________
Eroded Theories: the sculptures of Antal Kelle ArtFormer
July 2017 to August 2017
Award-winning artist Antal Kelle ArtFormer visited MoMath to discuss his artwork, Helix Opus 124, and to showcase other artworks through a series of photographs from his "Eroded Theories" collection, taken by his daughter, Emese Kelle-Kaleem, and curated by Kristof Fenyvesi.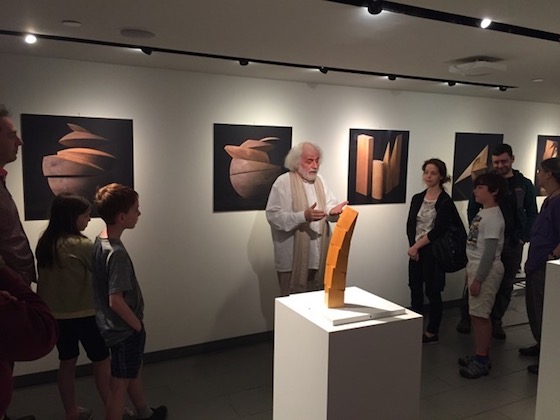 _____________
The Insides of Things: the art of Miguel Berrocal
October 2016 to May 2017
Featuring the work of Spanish sculptor Miguel Berrocal, MoMath's art exhibit The Insides of Things: the Art of Miguel Berrocal showcased the masterful craftsmanship of Berrocal's art. Visitors were able to try their hands at assembling and disassembling a replica of one of Berrocal's stunning works and discovered why the piece had something in common with MoMath's Enigma Café.
The National Museum of Mathematics wishes to thank the late Samuel Sensiper for his donation of the Berrocal collection as well as Michele and Stan Rosen for supporting the opening reception in his memory.
_____________
Luminaries: the optical imagery of Matthew Brand
December 2014 to April 2015
Evoking figures from ancient Egypt to the medieval Silk Road to modern casinos, light artist Matt Brand has captured some of history's most intriguing thinkers. Luminaries featured the world's first large-scale show of lumography — smooth, water-clear lenses whose undulating surfaces rearrange light beams into ghostly morphing pictures. Many years in development, Brand's marriage of sand castle mathematics and swimming pool optics premiered on December 6, 2014 and closed on April 30, 2015.
_____________
Compounding Visions: the concave drawings of Trevor and Ryan Oakes
May 2014 to September 2014
In Compounding Visions, twins Ryan and Trevor Oakes demonstrated their method for creating spherically concave drawings — a technique that has been described as one of the most original breakthroughs in the rendering of visual space since the Renaissance. The artists spent four weeks creating a new concave drawing of the Flatiron Building from a vantage in Madison Square Park, using their custom curved metal easel and referencing Edward Steichen's haunting iconic 1904 photograph of that then-freshly-built NYC landmark.
_____________
Do you have a great idea for a mathematical art show? Send it to MoMath! Applications are open here: applycomposite.momath.org.
_____________