The Six Series: A January through June Celebration of MoMath's Sixth Birthday
Join Fields Medalist and Distinguished Visiting Professor Manjul Bhargava in an exciting series celebrating MoMath's sixth birthday. Mark your calendar now for these special events:
Wednesday, April 17, 6:30 pm
Wednesday, May 15, 6:30 pm
Thursday, June 6, 6:00 pm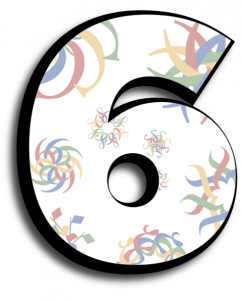 "Six Linguistic Sixes," with Princeton Professor Joshua Katz
Wednesday, April 17, 6:30 pm
In this interactive presentation, suitable for all lovers of language, math, and puzzles, Princeton Professor Joshua Katz will share six facts (at least) about English and other languages that have in one way or another to do with the number six. For example, do you know what the connection is between six and the first word in any dictionary of English, the seemingly mundane but in fact fascinating indefinite article "a"? Or why the letter "alpha" could be used for 1 in Ancient Greek, "beta" for 2, and "gamma" for 3, but the sixth letter, "zeta," stood for 7? Come learn and explore!
Known as one of Princeton's "rockstar professors," Joshua T. Katz is Cotsen Professor in the Humanities, Professor of Classics, and a member (and former Director) of the Program in Linguistics at Princeton University, where he has taught since 1998. He has received numerous awards for his scholarship and teaching.
"Six Magical Concepts" with Master Magician Joshua Jay
Wednesday, May 15, 6:30 pm
Master Magician Joshua Jay will explore the intersection of magic and mathematics with a dazzling demonstration of seemingly impossible tricks that involve secret mathematics. Known for his widely acclaimed show "Six Impossible Things," Joshua turns his talent to math, bringing six mathemagical concepts in celebration of MoMath's sixth birthday. Various trick methods will be explored, as well as the fascinating background on how magic tricks are created. Part show, part lecture, this former world champion of sleight-of-hand will provide an evening of interest to those who love numbers, magic, and being entertained.
If available, tickets at the door for these events will incur an additional charge. Absolutely no refunds or exchanges. All sales are final.