The Six Series: A January through June Celebration of MoMath's Sixth Birthday
Join Fields Medalist and Distinguished Visiting Professor Manjul Bhargava in an exciting series celebrating MoMath's sixth birthday. Mark your calendar now for these special events, one each during the first six months of 2019:
Wednesday, January 23, 6:00 pm
Wednesday, February 13, 6:00 pm
Tuesday, March 12, 6:00 pm
*Wednesday, April 10, 6:00 pm
Wednesday, May 1, 5:30 pm
Thursday, June 6, 6:00 pm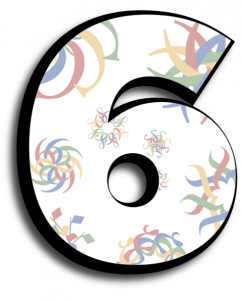 "Six Favorite Puzzles from MIT's Puzzle Corner" with John Urschel
Wednesday, January 23, 6:00 pm
John Urschel, former pro football player for the Baltimore Ravens currently pursuing his PhD in Mathematics from MIT, has been a lover of puzzles since childhood. John will share six of his favorite and most inspirational puzzles from MIT's long-running Puzzle Corner. And to kick off The Six Series, guests will enjoy birthday cake in celebration of MoMath's sixth birthday!
"The Perfect Nature of the Number Six" with Manjul Bhargava
Wednesday, February 13, 6:00 pm
The number six has an illustrious history. The ancient Greeks considered the number to be perfect because of its remarkable number-theoretic properties. The number six also plays an extremely important role in nature; for example, bees have long considered six to be the perfect number of sides for each cell of their honeycombs – and for good reason! In this lecture, we describe some of the remarkable properties of the number six, in both human and natural history, including some nontrivial magic tricks that make use of these characteristics of six – all in celebration of MoMath's sixth birthday!
Purchase tickets
Purchase individual event tickets for $35 each. If available, tickets at the door will incur an additional charge. Absolutely no refunds or exchanges. All sales are final. Click below to register.
*Note: MoMath will host one event in April, tentatively scheduled for April 10 at this time. The date is subject to change.