Fifth Annual
NYC Math Festival
Saturday, August 14, 2021
10:00 am to 4:00 pm ET (New York)
Fosun Plaza, 28 Liberty St.
In person!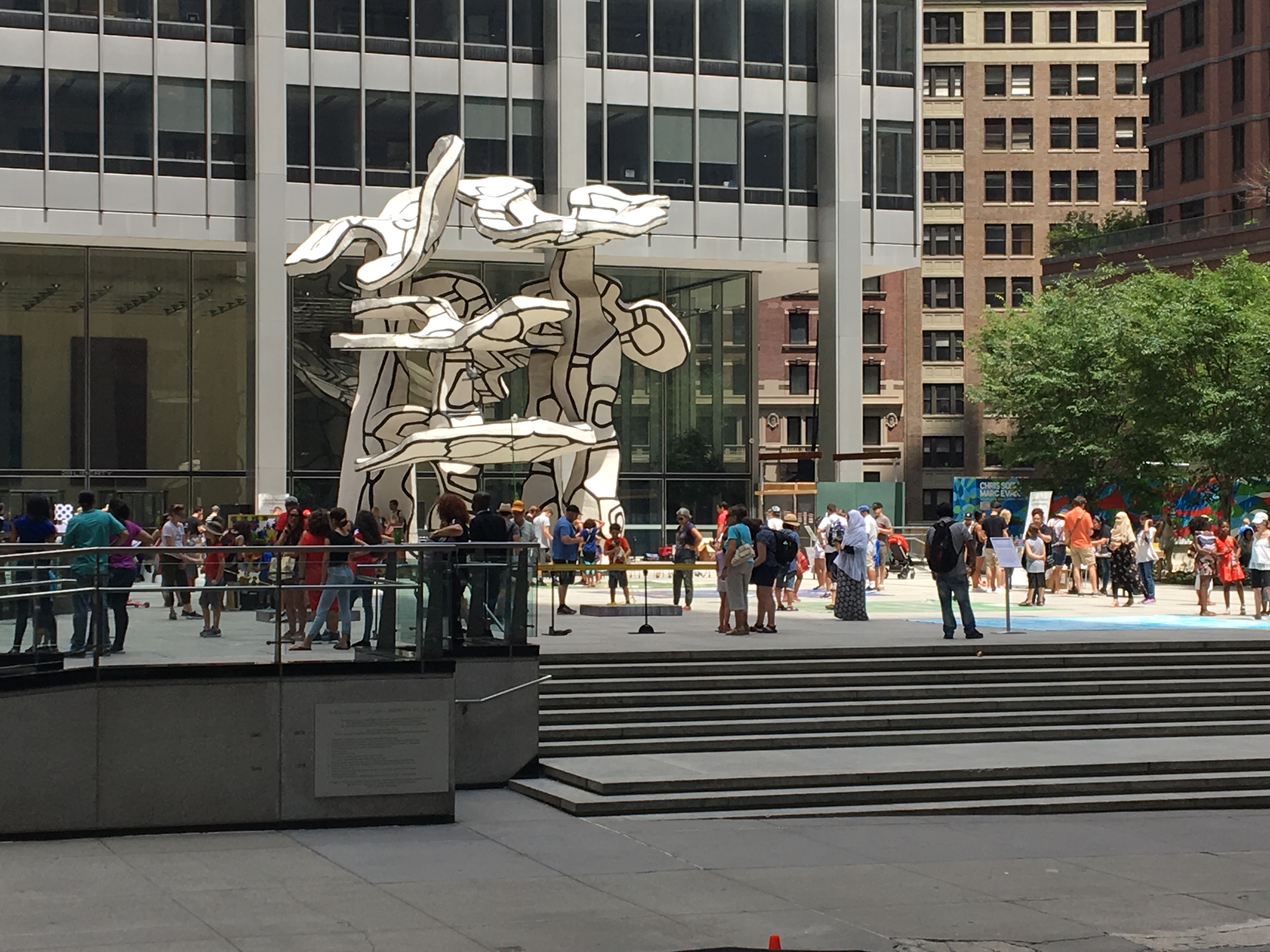 Add a little math to your summer! MoMath is pleased to present the fifth in-person NYC Math Festival on Saturday, August 14, from 10:00 am to 4:00 pm ET (New York), providing a full day of math fun in the sun for all ages. Bring your friends and the entire family to Fosun Plaza at 28 Liberty St. and enjoy hands-on math exhibits, entertaining mathematical games, and intriguing puzzles and brainteasers. Plus, take home a little bit of MoMath: we'll be setting up an outpost of Additions, the shop at MoMath, for all your summer gift needs.
The event is free and open to the public. No registration is needed.
Not in the NY area? MoMath also hosts an online math festival each year.
Interested in volunteering with setup, breakdown, or assisting visitors at the NYC Math Festival? Click here for more information and to register to volunteer on Saturday, August 14, or to help with the initial staging of exhibits on Friday, August 13.
Featured Festival Fun
MoMath 2 Go!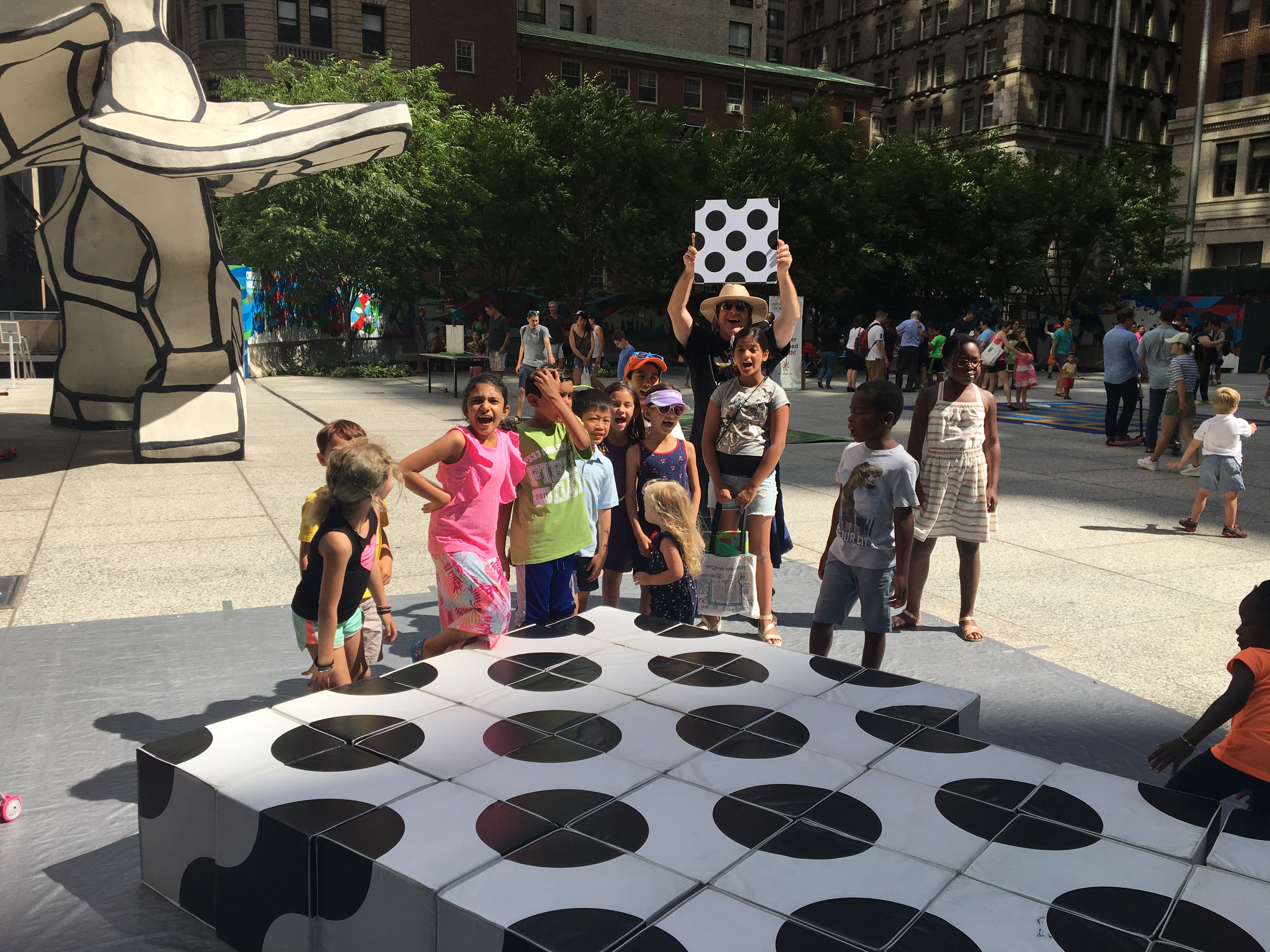 Slice shapes with lasers, explore giant mazes, crank up the math tunes, design a roller coaster, and more… Enjoy these and other Math Midway classics plus, jump into an exciting race of mathematical and visual perception with Play Truchet and enjoy the mind-bending puzzles of Twist-n-Roll.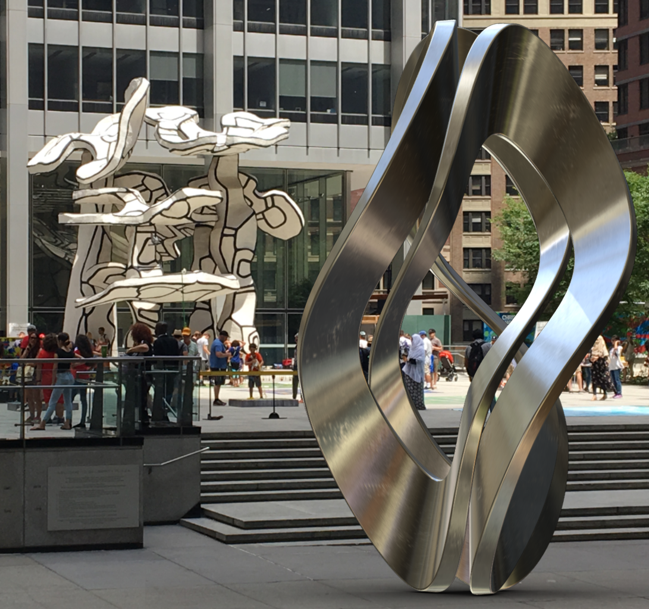 Global Perspective: Math, Art, and Architecture Around the World
Every Anton Bakker sculpture invites — and rewards — examination from multiple angles. Now, Bakker uses computer-based, custom technology to deploy his intriguing sculptures around the world. See Bakker's sculptures — virtually — in a special augmented reality exhibition that lets you literally put yourself in the picture along with some of the world's most engaging art and architecture.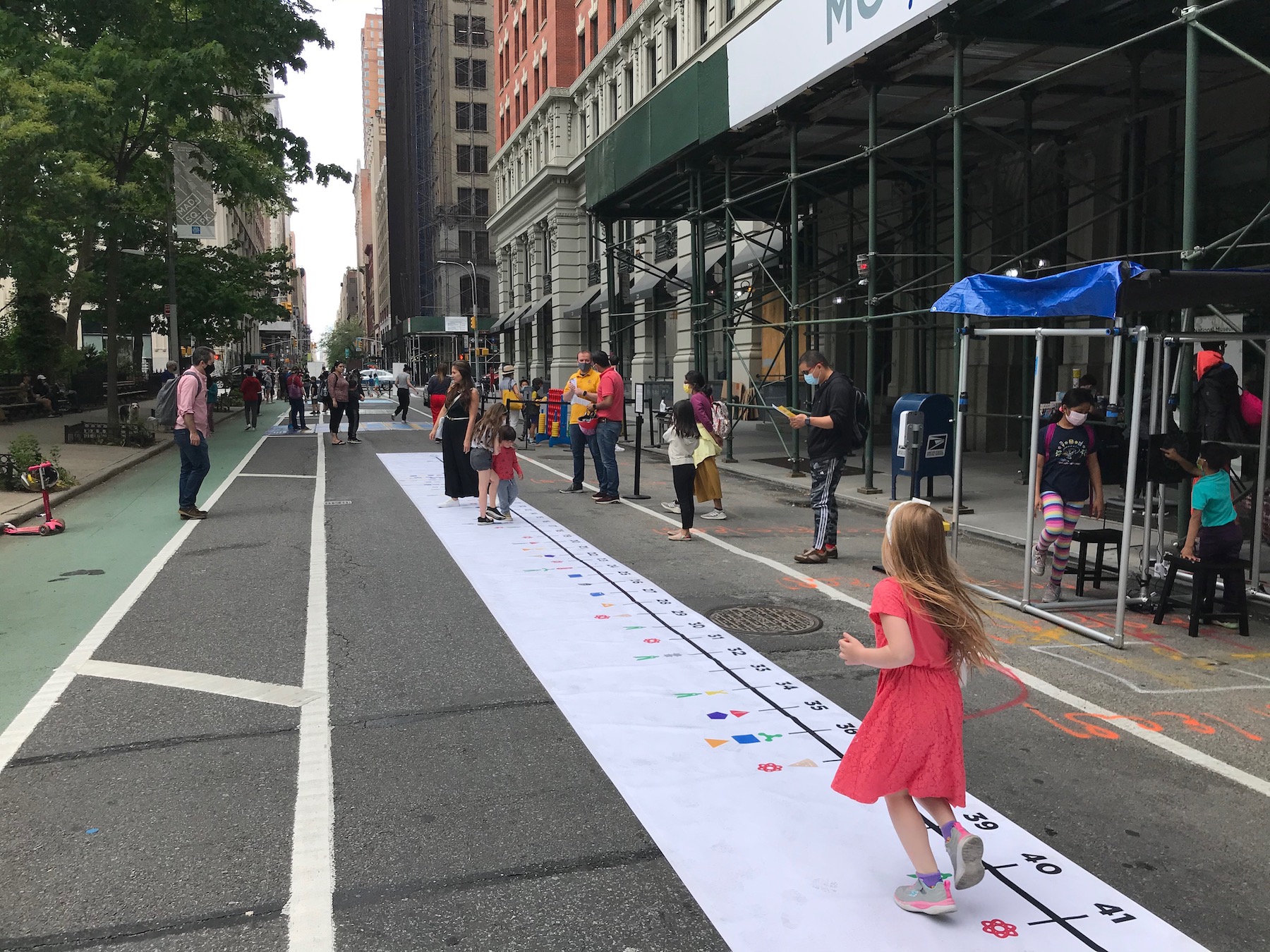 MoMath's Iconic Number Line
Guests of all ages can enjoy a 120 foot-long trip along MoMath's iconic number line!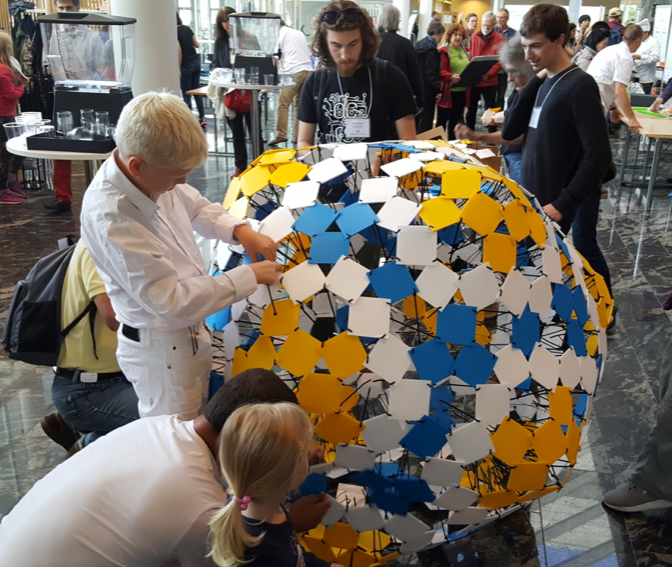 Geometric Sculpture Build
Help build a giant geometric sculpture using hundreds of pieces with mathematician David Reimann. If you can thread a cable tie through a hole or count to six, you can help!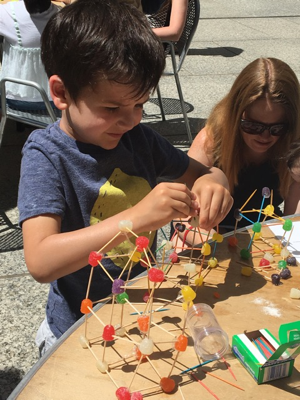 Julia Robinson Mathematics Festival
Experience the joy of doing math together with others! Play fascinating games, hone your problem-solving skills, and enjoy unique mathematical activities, all in a relaxed social atmosphere, guided by an expert facilitator.
EvenQuads
Join SET® expert Lauren Rose as she introduces a card game similar to SET®, but with a twist. A QUAD consists of a four cards satisfying a certain pattern. If only three cards satisfy the pattern, it's not a QUAD…hence, Three's a Crowd. If you love SET®, this is a session you won't want to miss!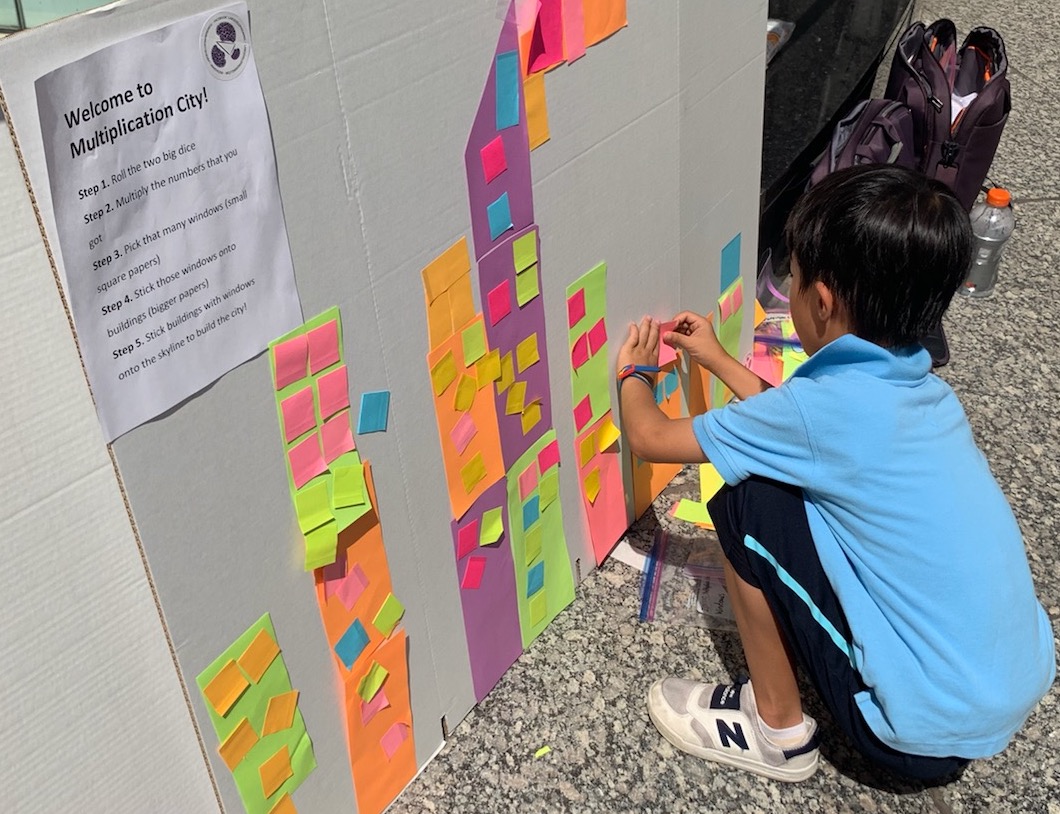 The Lab for the Developing Mind at New York University (directed by Dr. Moira Dillon) investigates the origins and development of those incredible cognitive abilities that make us human. Primary among them is our uniquely human capacity for mathematics! The lab has been collaborating with MoMath on research and outreach since 2017. The following activities will be presented by the lab:
Multiplication City is fun way for kids to exercise multiplication rules. Kids roll two dice and multiply the numbers rolled, then grab that number of pieces of colored paper blocks and stick them as windows onto buildings on a poster board, creating many buildings and a city sky line in the end. If hey have trouble with the initial multiplication problem, then they can discover the answer through the process of putting the windows on the building. We have found a way to make this game portable (using large fold-out boards). It's a hit with kids at different ages, especially because we live in NYC, where skylines are so prominent!
Speed Sorting is a fast-paced game exercising approximate numerical comparison using arrays of dots presented on cards. Cards present groups of differently colored dots at different ratios, and kids sort cards by the color of the more numerous dot array. We have a very fun oversized version with an oversized timer so that it's super interactive and physical. This is a game we've used in experiments in the field to exercise numerical intuitions across a very broad age range, from about 3 years to adulthood.
Raffle for Shapes of Constant Width: We plan to give away some sets of shapes of constant width with our lab and MoMath's logos (like what we give away to study participants in the museum). Anyone interested can enter the raffle and we'll choose winners. We'll make sure they get their prizes either that day or in the mail after the event.
It Takes Three is a fun way to engage children's intuitions about space — whether it be about the spatial properties of objects, places, or even abstractions like the Euclidean plane! Children watch short animations of points and lines in different contexts and generate what comes next by tapping on an iPad screen.
This is a free, rain-or-shine event open to the general public from 10:00 am to 4:00 pm ET (New York) on Saturday, August 14. Contact MoMath at 212-542-0566 or functions@momath.org with any questions.