Meet the Artist
Tuesday, July 13 at 6:30 pm ET (New York)
Tuesday, August 10 at 6:30 pm ET (New York)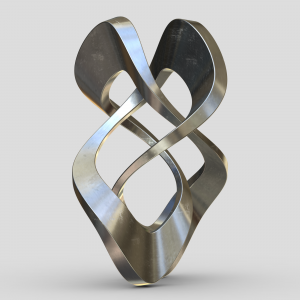 Meet artist Anton Bakker for a lively discussion of his art and what inspires him. From his childhood in the Netherlands to his career in high tech in the US, a fascination with the intersection of form, technology, and beauty has informed his work. Don't miss your opportunity to meet Anton in person and get to know this unusual modern-day Renaissance man.
Anton Bakker's sculptures are featured in Alternative Perspectives, a groundbreaking new art show in Composite, the gallery at MoMath! Nine rare works by renowned artist M.C. Escher (collection of Rock J Walker / Walker Fine Art) will be shown as part of this new art exhibition. Bakker's stunning works of art, grouped into several mathematical themes, were inspired in part by the work of Escher. Learn more about Alternative Perspectives at composite.momath.org.
The Meet the Artist events will take place in person in Composite, the gallery at MoMath at 11 East 26th Street.
Space for in-person registration is limited due to social distancing restrictions, so register early. All in-person seats are available on a first-come, first-served basis.
Proof of full vaccination (i.e., two weeks after final vaccine shot) is required. Masks are optional, but encouraged. Please arrive 15 to 30 minutes before the event to complete registration and verify vaccination status. The preferred form of proof is the Excelsior Pass and a photo ID; we will also accept a physical vaccination card showing name and date along with your photo ID.
Register for July 13 (in person)