Math Encounters
Now offering FREE, online sessions!
Click here for FREE Math Encounters videos
Math Encounters is MoMath's popular free public presentation series celebrating the spectacular world of mathematics, produced with support from the Simons Foundation. For further information, call the National Museum of Mathematics at 212-542-0566 or email mathencounters@momath.org.
Next up
Math Encounters:
"QUADS: a SET®-like game"
featuring Lauren Rose
Wednesday, October 6
4:00 pm and 7:00 pm ET (New York)
(in-person/online)
How good are your pattern-recognition skills? Find out as you learn this exciting, new SET®-like card game, QUADS. Join us for an evening of fun as Lauren Rose, Associate Professor of Mathematics at Bard College, shares the rules of this engaging game she co-invented, then dive beneath the surface to see how combinatorics, probability, and algebra are the underlying mathematical engines that drive the fun.
Special introduction by Liz McMahon, Professor of Mathematics at Lafayette College, and Gary Gordon, Marshall R. Metzgar Professor of Mathematics at Lafayette College.
This event will be hosted in person at MoMath (11 E 26th Street in Manhattan) and broadcasted online.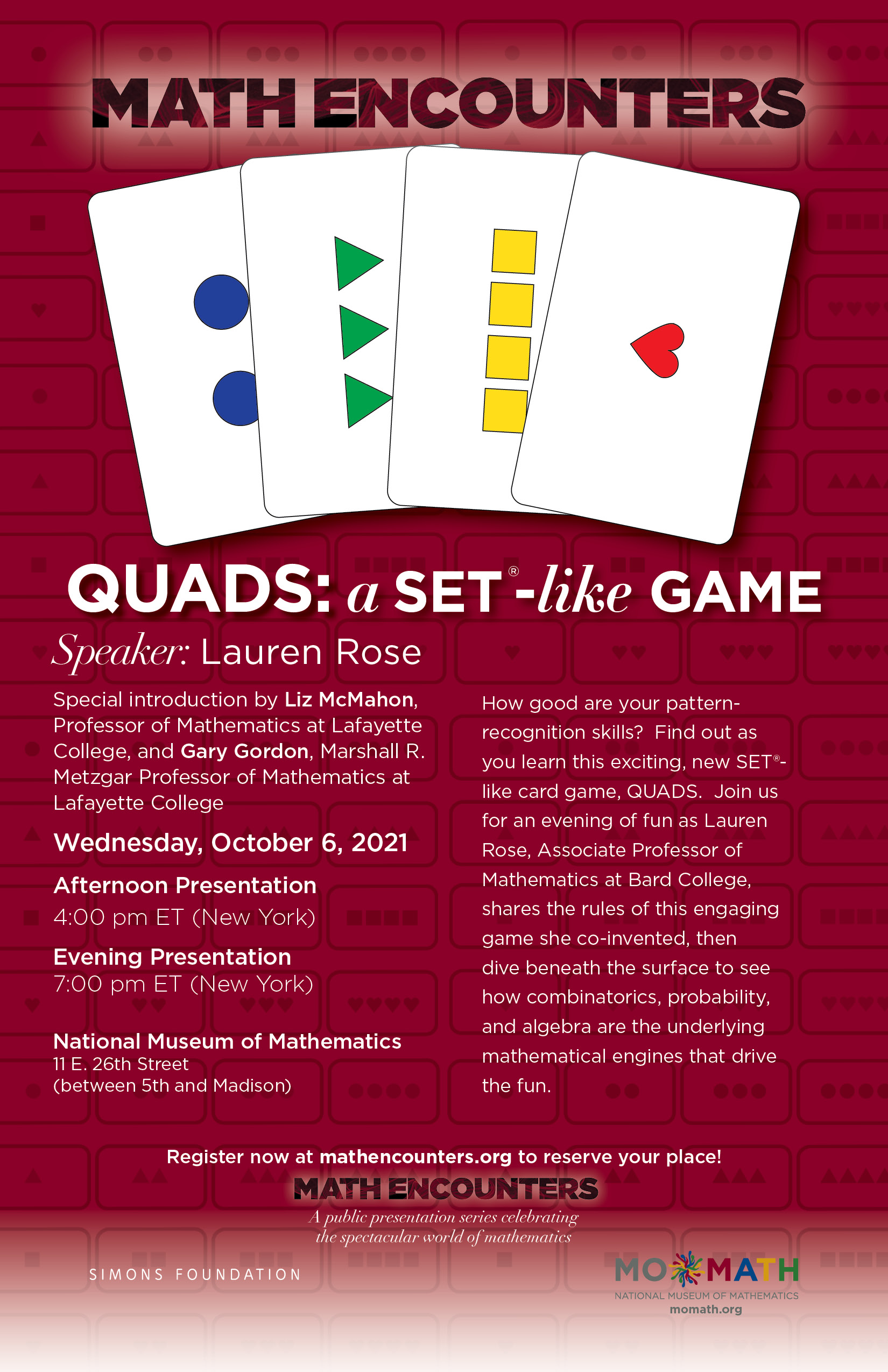 Photography notice
By registering for a Math Encounters presentation, you agree that you may be photographed or videotaped by Museum staff and associates.
Books by the speakers
We are happy to offer books edited or authored by Math Encounters speakers through our online shop.
Math Encounters

available on YouTube and DVD

Math Encounters presentations are generally posted to our YouTube page within 1-2 months of filming. Due to copyright issues, some presentations may not be reproduced on the internet. Presentations posted online are also available for purchase via our online shop. Click here to purchase yours today!

Previous Math Encounters presentations

Presented by the Simons Foundation and the National Museum of Mathematics

Please note that all children under the age of 16 must be accompanied by an adult.