Math Encounters
Math Encounters is MoMath's popular free public presentation series celebrating the spectacular world of mathematics, produced with support from the Simons Foundation. For further information, call the National Museum of Mathematics at 212-542-0566 or e-mail mathencounters@momath.org.
Next presentation:
"Double Vision: Explorations of Alternative Math from History"
with Glen Van Brummelen — December 4 at 4:00 pm
"Double Vision: Explorations of Alternative Math from History"
with Glen Van Brummelen — December 4 at 7:00 pm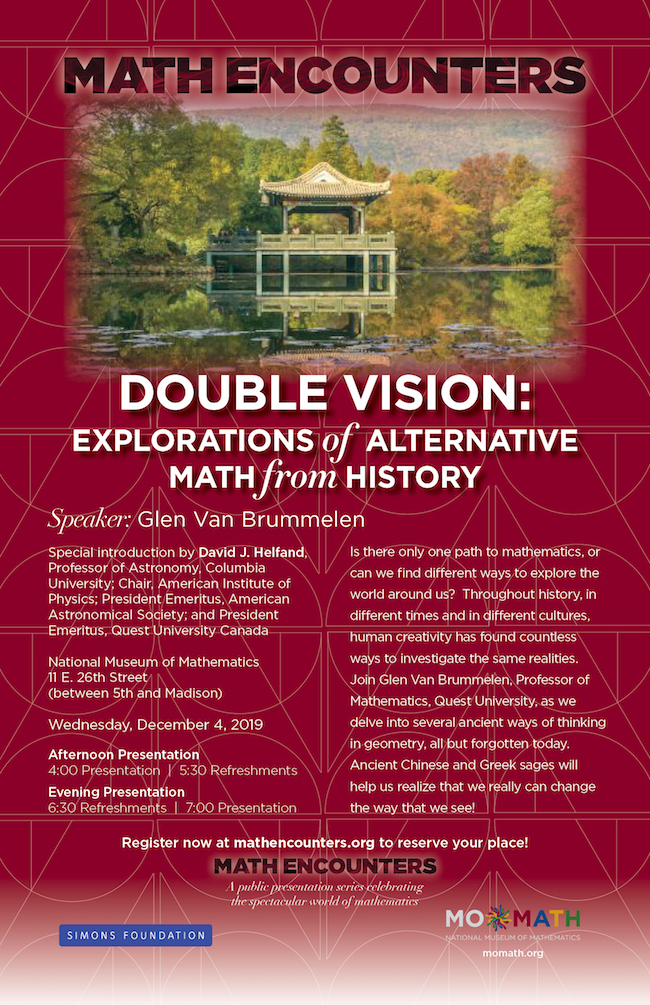 Is there only one path to mathematics, or can we find different ways to explore the world around us? Throughout history, in different times and in different cultures, human creativity has found countless ways to investigate the same realities. Join Glen Van Brummelen, Professor of Mathematics, Quest University, as we delve into several ancient ways of thinking in geometry, all but forgotten today. Ancient Chinese and Greek sages will help us realize that we really can change the way that we see!
Special introduction by David J. Helfand, Professor of Astronomy, Columbia University; Chair, American Institute of Physics; President Emeritus, American Astronomical Society; and President Emeritus, Quest University Canada
Light refreshments will be served after the 4:00 pm session and at 6:30 in advance of the second session.
Register for the 4:00 pm session
Register for the 7:00 pm session
Get priority seating for Math Encounters!
Become a premium member (Plus, Squared, Exponential, Infinity) at momath.org/join and get priority seating for Math Encounters.*
Photography notice
By registering for a Math Encounters presentation, you agree that you may be photographed or videotaped by Museum staff and associates.
Books by the speakers
We are happy to offer books edited or authored by Math Encounters speakers through our online shop.
Math Encounters

available on YouTube and DVD

Math Encounters presentations are generally posted to our YouTube page within 1-2 months of filming. Due to copyright issues, some presentations may not be reproduced on the Internet. Presentations posted online are also available for purchase via our online shop. Click here to purchase yours today!
Previous Math Encounters Presentations
*For Math Encounters priority seating, premium members must arrive before 3:45 pm for the afternoon presentation and 6:30 pm for the evening presentation.