Math Encounters
Now offering FREE, online sessions!
Click here for FREE Math Encounters videos
Math Encounters is MoMath's popular free public presentation series celebrating the spectacular world of mathematics, produced with support from the Simons Foundation. For further information, call the National Museum of Mathematics at 212-542-0566 or email mathencounters@momath.org.
Next up
"Optimal Tours: The Traveling Salesman Problem"
with Bill Cook
Wednesday, August 4 at 4:00 pm and 7:00 pm ET (New York)
In person and live-streamed!
Is it possible to compute the shortest route among a large number of waypoints? It sounds simple, but finding a method that can do this quickly for every example would be a stunning breakthrough in mathematics — and would earn you a million-dollar prize. Join Bill Cook as we explore the history and applications of this fascinating challenge, and examine state-of-the-art approaches to solving it.
Special introduction by Alex Kontorovich, MoMath's 2020-2021 Distinguished Visiting Professor for the Public Dissemination of Mathematics and Rutgers math professor.
On Wednesday, August 4, you can join Math Encounters in person at the Museum (11 East 26th Street) — or online by participating in a livestream broadcast of the event.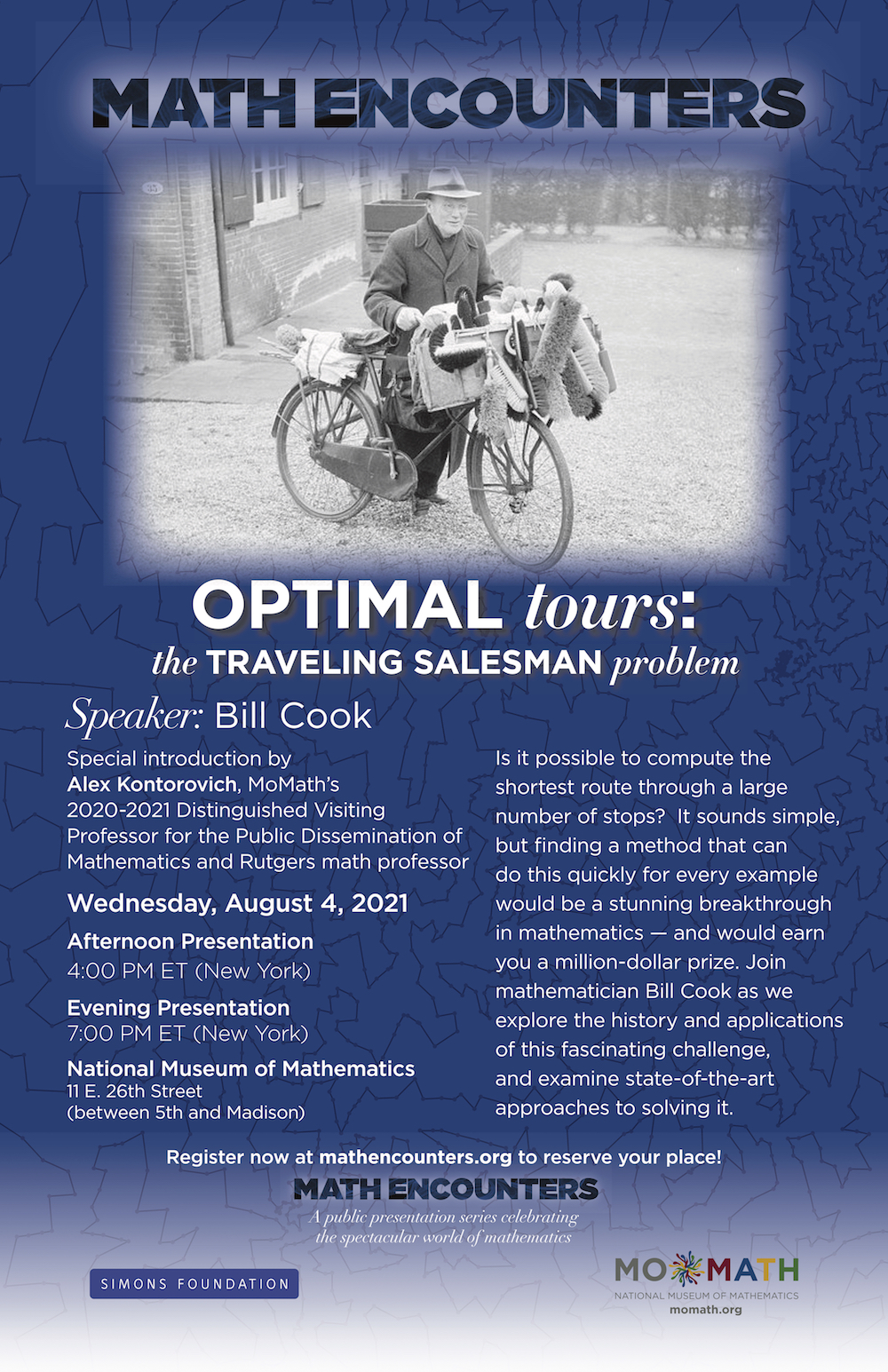 Photography notice
By registering for a Math Encounters presentation, you agree that you may be photographed or videotaped by Museum staff and associates.
Books by the speakers
We are happy to offer books edited or authored by Math Encounters speakers through our online shop.
Math Encounters

available on YouTube and DVD

Math Encounters presentations are generally posted to our YouTube page within 1-2 months of filming. Due to copyright issues, some presentations may not be reproduced on the internet. Presentations posted online are also available for purchase via our online shop. Click here to purchase yours today!

Previous Math Encounters presentations

Presented by the Simons Foundation and the National Museum of Mathematics

Please note that all children under the age of 16 must be accompanied by an adult.