Math Encounters
Now offering FREE, online sessions!
Math Encounters is MoMath's popular free public presentation series celebrating the spectacular world of mathematics, produced with support from the Simons Foundation.  For further information, call the National Museum of Mathematics at 212-542-0566 or e-mail mathencounters@momath.org.
Upcoming online presentation:
"Game on! The Mathematics of Game Shows" with Paul Dreyer
June 3 at 4:00 pm and 7:00 pm EDT (New York)
Many game shows have a rich mathematical foundation, drawing on topics in probability, game theory, and decision theory.  Join Paul Dreyer, President of the American Regions Mathematics League, in an exploration of the mathematics behind a number of shows on which he worked, including The Wall, Million Second Quiz, and Spin the Wheel.  Some participants will also have opportunities to win prizes, because what good is a game show without prizes?
Special introduction by George Reuter, President of the NY State Math League, lecturer at SUNY Geneseo, and Regional Co-Director of the NYS Master Teacher Program.
Register for the 4:00 pm session
Register for the 7:00 pm session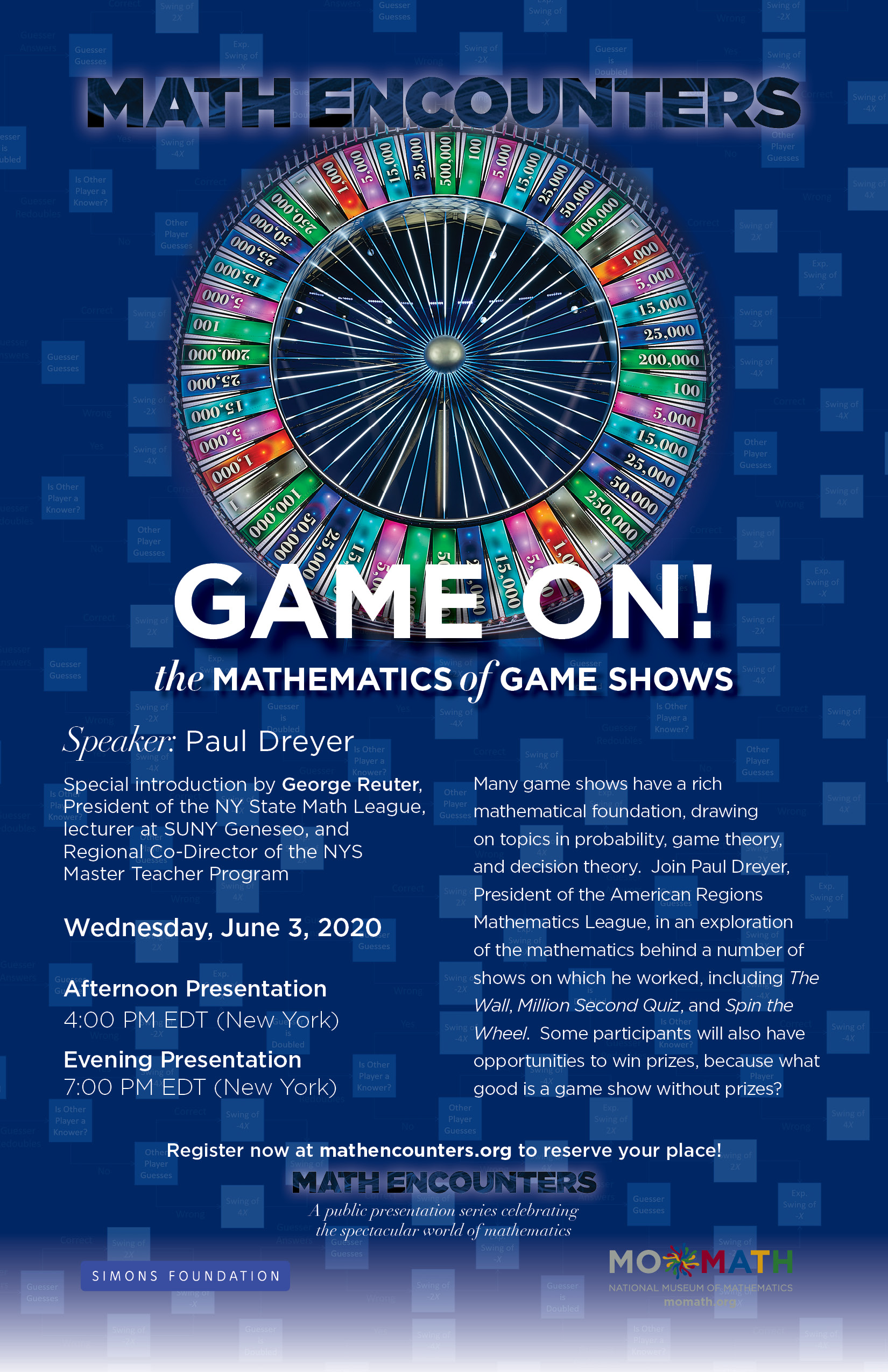 Photography notice
By registering for a Math Encounters presentation, you agree that you may be photographed or videotaped by Museum staff and associates.
Books by the speakers
We are happy to offer books edited or authored by Math Encounters speakers through our online shop.
Math Encounters

available on YouTube and DVD

Math Encounters presentations are generally posted to our YouTube page within 1-2 months of filming. Due to copyright issues, some presentations may not be reproduced on the Internet. Presentations posted online are also available for purchase via our online shop. Click here to purchase yours today!

Previous Math Encounters presentations

Presented by the Simons Foundation and the National Museum of Mathematics

Please note that all children under the age of 16 must be accompanied by an adult.