Tween Primes
MoMath brings its popular Volumes book club to a younger audience. Like to read? Like math or wish you did? Come to Tween Primes, the MoMath book club for tweens and teens (ages 10-15). Pizza and good math reads: what better way to spend an evening?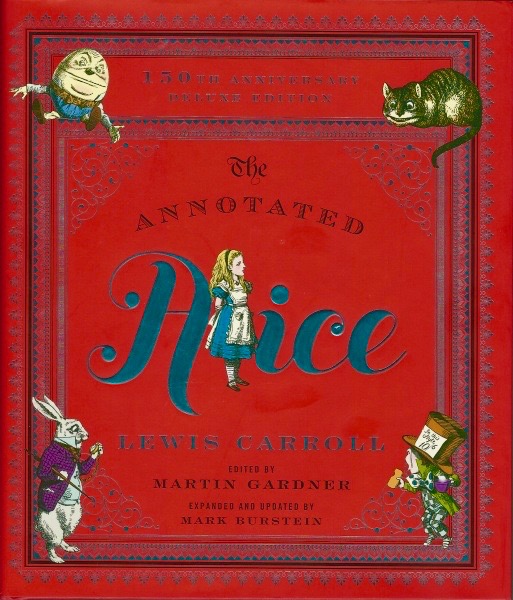 The Annotated Alice
by Lewis Carroll
Sunday, September 16, 5:30 pm
Tweens and teens, join MoMath at Tween Primes to discuss The Annotated Alice, a version of the classic Alice in Wonderland series in which Martin Gardner playfully highlights the hidden mathematical riddles and curious wordplay ingeniously embedded throughout the story.
Prior Tween Primes Selections
• More Math Adventures with Penrose the Mathematical Cat by Theoni Pappas
• Further Adventures of Penrose the Mathematical Cat by Theoni Pappas
• The Man Who Counted by Malba Tahan
• The Curious Incident of the Dog in the Night-Time by Mark Haddon
• A Wrinkle in Time by Madeleine L'Engle
• The Hitchhiker's Guide to the Galaxy by Douglas Adams
• Chasing Vermeer by Blue Balliett
• Do the Math: Secrets, Lies, and Algebra by Wendy Lichtman
• Numbed! by David Lubar
• Lost in Lexicon: An Adventure in Words and Numbers by Pendred Noyce
• Secret Coders and Secret Coders: Paths & Portals by Gene Luen Yang
• Ruby Redfort Take Your Last Breath by Lauren Child
• The Adventures of Penrose the Mathematical Cat by Theoni Pappas
• Hidden Figures, Young Readers' Edition by Margot Lee Shetterly
• The Phantom Tollbooth by Norton Juster
• Ruby Redfort Look Into My Eyes by Lauren Child
• The Number Devil by Hans Magnus Enzensberger
• The Prince of Mathematics: Carl Friedrich Gauss by M. B. W. Tent