Tween Primes
MoMath brings its popular Volumes book club to a younger audience. Like to read? Like math or wish you did? Come to Tween Primes, the MoMath book club for tweens and teens (ages 10-17). Pizza and good math reads: what better way to spend an evening?

The Absolute Value of Mike
by Kathryn Erskine
Sunday, March 15, 5:30 pm
Mike tries so hard to please his father, but the only language his dad seems to speak is calculus. And for a boy with a math learning disability, nothing could be more difficult. His dad sends him to rural Pennsylvania for the summer to work on an engineering project, but instead, he finds himself part of a town-wide project to adopt a boy from Romania while working alongside his wacky eighty-something-year-old aunt, a homeless man, and a punk-rock girl. Mike might not learn anything about engineering, but what he does learn is far more valuable. 1 teenage boy + 1 crazy town + 3 weeks – $40,000 . . . you do the math.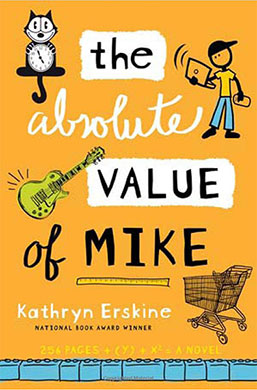 Note: this is a drop-off program.
Register for Tween Primes on March 15
Register for Tween Primes and Unlimited (back-to-back programs) at a special combined rate!
Register for Tween Primes and Unlimited on March 15