Family Fridays at MoMath presented by Two Sigma
Family Fridays is designed to bring families together to enjoy a diverse array of engaging mathematical activities, promoting interest and enthusiasm among kids and adults alike. The activities are designed so that all attendees, regardless of age, can participate on an equal footing. Thanks to the generous support of Two Sigma, this program is free to attendees.

Next presentation:
"The Math of Winning" with Paul Gallagher
January 19 at 6:30 PM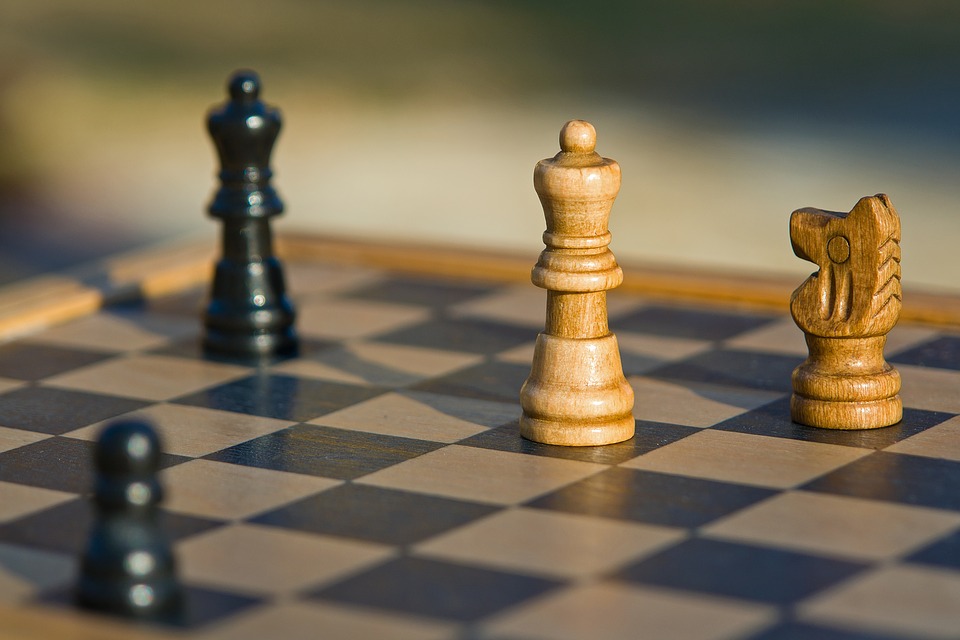 In 1996, Deep Blue, IBM's chess-playing computer, shocked the world by defeating Garry Kasparov, then the highest rated human chess player in the world. Game-playing machines reached another milestone just this past summer, when Google's AlphaGo AI defeated a human player in Go, a game even more complicated than chess. Why are some games so much harder than others to win? Join MIT's Paul Gallagher as we play with some simple strategy games and try to discover the winning strategies.
Previous
Family Fridays
• 2017 December 1 – "Folding Fractals"
• 2017 November 10 – "Which One Doesn't Belong?"
• 2017 October 6 – "A Construction Toy Revolution: Introducing Lux!"
• 2017 September 8 – Picking Points A-Plenty
• 2017 August 4 – Magic Squares and Magical Squaring
• 2017 July 7 – Get into the Game!
• 2017 June 16 – Eschering Around
• 2017 May 5 – Boxes of Troxes
• 2017 April 14 – Ready, SET, go!
• 2017 March 3 – The Mathematical Mysteries of a U.S. $1 Bill!
• 2017 February 10 – How Big is Infinity?
• 2017 January 27 – Instant Insanity
• 2016 December 2 – How Math Can Save Your Life
• 2016 November 4 – Game On!
• 2016 October 7 – Chameleon Cubes
• 2016 September 9 – Number Puzzles
• 2016 August 5 – Wood, Magnets, Playdough, and Space
• 2016 July 8 – Playful Geometry
• 2016 June 3 – Can You Spot It?
• 2016 May 13 – Mosaics and Honeycombs
• 2016 April 8 – Pool Party
• 2016 March 25 – Spiraling into Art and Nature
• 2016 February 26 – Coloring Outside the Sines
• 2016 January 15 – Puzzles and Paradoxes
• 2015 December 11 – Suspended Geometry
• 2015 November 13 – Let's Box!
• 2015 October 23 – Math Makes Music
• 2015 September 25 – Connecting with Geometry
• 2015 August 21 – Snapology
• 2015 July 24 – Folding Circles
• 2015 June 5 – Finding Freaky Fixed Points
• 2015 May 1 – Popping Up with Robert Sabuda!
• 2015 April 10 – Math Runes: Art with Functions
• 2015 March 13 – Cat & Mouse Games
• 2015 February 27 – ITSPHUN
• 2015 January 16 – Creature Cuts
• 2014 December 5 – Mathematical Puzzles and the "Tricks" You Need to Solve Them
• 2014 November 7  – Bead Geometry
• 2014 October 10  – Great Balls of Paper!
• 2014 September 12  – Crowdsourcing Origami
• 2014 August 22 – FlexiFun: A Night of Creative Construction
• 2014 July 11 – Curb Summer Learning Loss with Chocolate
• 2014 June 13 – How Not to Be Wrong
• 2014 May 2 – The X's and O's of Tic-Tac-Toe
• 2014 April 11 – Mathemagic with a Deck of Cards
• 2014 March 14 – MoMath's Pi Day Celebration
• 2014 February 7 – Scrabble with Friends: Strategies and Skills from the Pro
• 2014 January 24 – Love and Math
• 2013 December 13 – An Enigmatic Evening
• 2013 November 1 – The Simpsons and Their Mathematical Secrets
• 2013 October 25 – Thinking Caps
• 2013 September 27 – The Secret Life of Squares
• 2013 August 23 – Elastegrities: How to Make Them! (And What They Are)
• 2013 July 19 – Folding in Geometry
• 2013 June 28 – Filling the Grid: Scrabble Strategies and Stories from the Pro
• 2013 May 24 – Piano Puzzler Proofs
• 2013 April 26 – Crackers, Oranges, and Pringles
• 2013 March 15 – Can You KenKen?
• 2013 February 10 – Family Fun Workshop Feb 2013