"Catch That Ghost" — a MoMath puzzle hunt for families
Sunday, October 21, 11:00 am to 5:00 pm
(check in no later than 2:00 pm)
Registration is now closed.

Walk-in registration may be available at $45 per team, plus Museum admission per person. Limited spots remain.
In this family-friendly puzzle event, teams of children and adult chaperones will explore midtown Manhattan on a location-based adventure, using their wits and mathematical knowledge to solve a mystery! This puzzle hunt is specially designed for families and solvable in approximately three hours.
Come and enjoy this craft puzzle adventure anytime on Sunday, October 21 during the hours of 11:00 am to 5:00 pm (checking in no later than 2:00 pm). A team size of approximately four people — children and adults — is recommended, ages nine and older.
See below for more information, and follow MoMath on Twitter and Facebook for complete enjoyment of the upcoming game.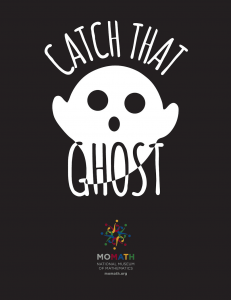 About the Creator
Eric Berlin, creator of "Catch That Ghost," is the author of the puzzle-filled children's book series "The Puzzling World of Winston Breen." He is the founder of Puzzle Your Kids, which sends out pencil puzzles every week to thousands of kids around the world. He has created puzzle events for the Connecticut Science Center, the American Crossword Puzzle Tournament, and the Connecticut Library Association, and has had dozens of crosswords and other puzzles published in the New York Times, Wall Street Journal, Los Angeles Times, and others. Eric is a member of the National Puzzlers' League.
Please note the following game rules:
Registration closes at noon on Friday, October 19, 2018 or when the event has reached capacity, whichever happens first. Teams will be able to check in anytime between 11:00 am and 2:00 pm (not 5:00 pm) on Sunday, October 21, 2018 to receive the first puzzle. Check-in will be held in the MoMath lobby. Other checkpoints will be distributed throughout the midtown area of New York City. Be sure to wear comfortable walking shoes and be prepared for the weather by checking the forecast.
We recommend teams of three to six players of mostly children. The event is appropriate for children ages nine and up. One person, the team captain, should register on behalf of the entire team, if possible.
Portions of this event will occur outdoors, beyond the Museum and without Museum supervision. This is an urban scavenger hunt — be smart, resourceful, and vigilant. MoMath cannot be responsible for your safety or offer any provisions once you are beyond the walls of the Museum. Take care to avoid dangerous areas and situations while out and about in New York City. You are responsible for acquiring your own food, water, and restrooms while exploring.
You will need to bring your own writing utensil and other basic supplies. Clipboards will be particularly useful. We recommend that at least one player on your team carry a smart phone with Internet access.
You may be asked to prove your progress before advancing to the next checkpoint, and any entry to the Museum or advancement to other checkpoints under the premises of the Puzzle Hunt will be granted at Game Control's sole discretion.
Registration is non-transferrable, and the Museum cannot issue refunds for any reason. This event will proceed, rain or shine!
Adult volunteers who are either educators and/or familiar with puzzles are welcome. To volunteer, please email puzzlehunt@momath.org with a brief description of your experience and background.