Math Unfolded
Meet the artists and one of the curators behind MoMath's exhibit of mathematical origami art
Be sure to visit Math Unfolded: An Exhibit of Mathematical Origami Art in Composite, the gallery at MoMath.
Meet the Curator:
September 28: Curator tour with Wendy Zeichner
Meet the Artist events:
October 3: Jeannine Mosely
October 15: Ben Parker
October 23: Uyen Nguyen
November 8: Matt Shlian
November 13: Duks Koschitz
November 21: Faye Goldman
December 10: Workshop led by Uyen Nguyen
December 17: Adrienne Sack
Meet the Curator: Tour with Wendy Zeichner
Saturday, September 28, 1:00 pm
Join one of the curators of the Math Unfolded exhibit, Wendy Zeichner of OrigamiUSA, for a behind-the-scenes look at this popular new show in Composite, the gallery at MoMath. Featuring origami works from 24 different artists, this is the first show in the United States that takes a mathematical look at the art of folding. From animal models to the latest in high fashion, this unique show highlights the interrelationship between art and math in an aesthetically pleasing display of unbounded creativity. Please note that space is limited for this event, and the Museum cannot guarantee that walk-ins will be accommodated.
Meet the Artist: Origami artist Jeannine Mosely
Thursday, October 3, 6:30 pm
Meet artist Jeannine Mosely. Jeannine is well known for her origami models created from business cards, especially her largest models, created from thousands or even tens of thousands of cards. Jeannine has also developed mathematical techniques for designing and analyzing curved origami models. Two of her pieces, Hidden Stars and Sails, are currently on display in the Math Unfolded exhibition at the National Museum of Mathematics.
Meet the Artist: Origami artist Benjamin Parker
Tuesday, October 15, 5:30 pm
Meet artist Benjamin Parker, who uses geometric origami to design tessellations and corrugations. His works are studies in how paper can be shaped to create complex patterns capable of an infinite number of repetitions. Ben's work in the Math Unfolded exhibition incorporates "pleat patterns," or origami forms that use overlaps in the paper to push certain parts outside the plane and into the third dimension.
Meet the Artist: Origami artist Uyen Nguyen
Wednesday, October 23, 6:30 pm
What do fashion and mathematics have in common? Engineer-turned-artist Uyen Nguyen shares her experience using math to design origami, and in turn, using origami to design fashion. Her time spent researching origami mechanics at Cornell University's Laboratory of Atomic and Solid State Physics inspired a collaboration that culminated on the runway of Vancouver Fashion Week. Since then, Nguyen has continued to develop her design aesthetic, exploring mathematical concepts like the Fibonacci sequence, various symmetries, and flat-foldability.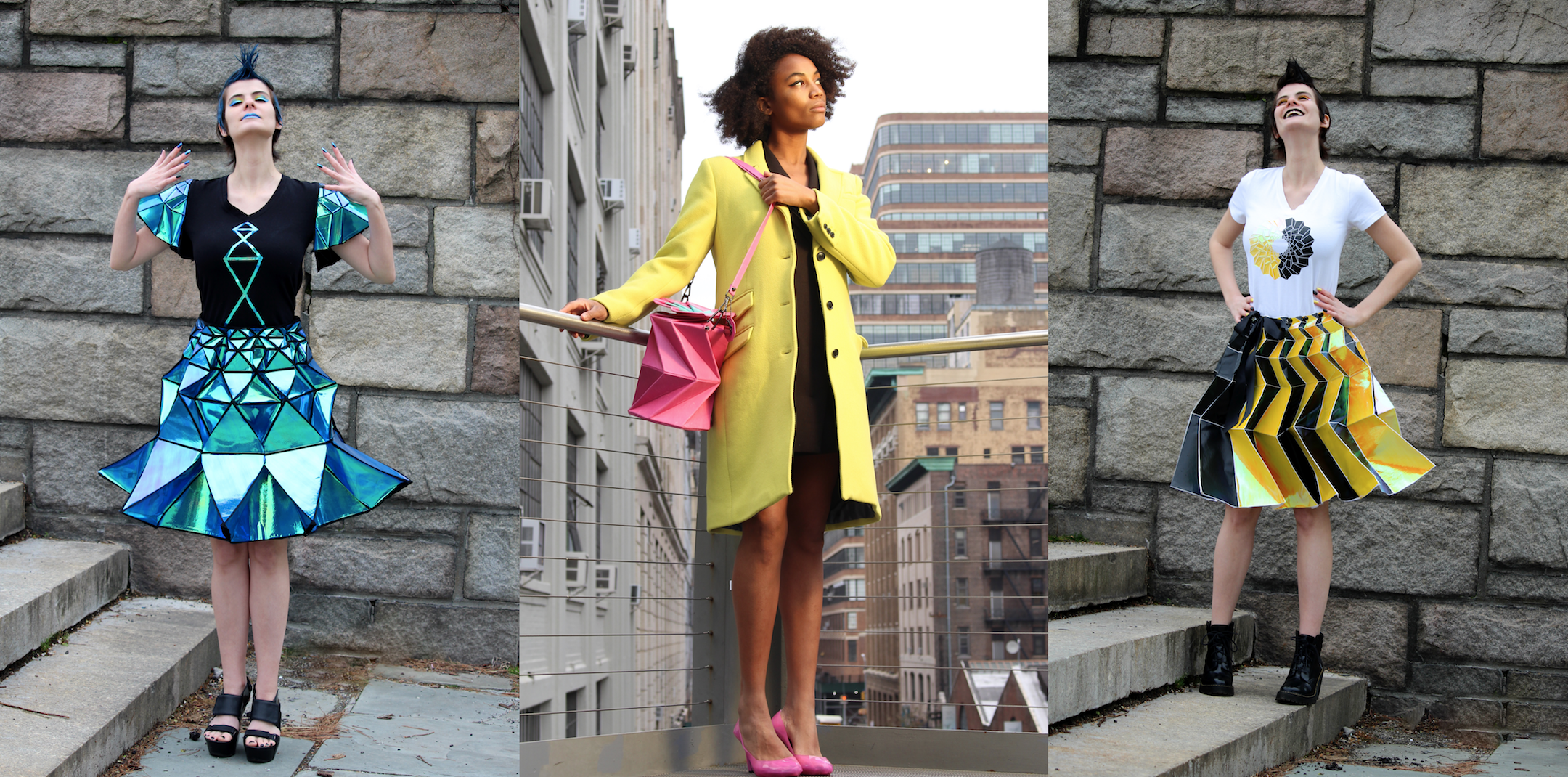 Meet the Artist: Origami artist Matt Shlian
Friday, November 8, 5:15 pm
Get up close and personal with paper engineer and artist Matt Shlian, who uses engineering skills to create kinetic sculptures. Matt's work is a hybrid between art and science; his paper folding helps top scientists visualize cellular division and solar cell development. While researchers see paper engineering as a metaphor for scientific principles, Shlian sees their inquiry as a basis for artistic inspiration. Join Matt for a discussion of his work, including the opportunity to handle samples of his artistic creations.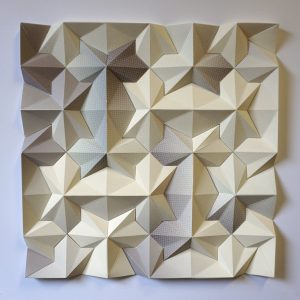 Meet the Artist: Duks Koschitz
Wednesday, November 13, 6:30 pm
How are art, design, and mathematics interconnected with paper folding? Architect Duks Koschitz answers this question as he discusses his work – along with the work of groundbreaking computer scientist David Huffman – on curved-crease paper folding. Join Duks as he takes us from the historical beginnings of this field in the 1970s all the way to his own contemporary work in design and architecture today.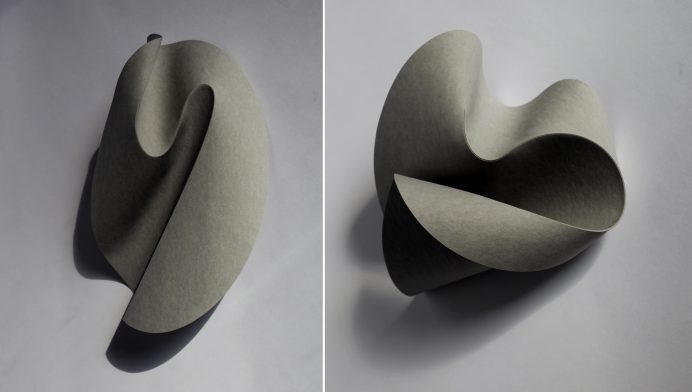 Meet the Artist: Faye Goldman
Thursday, November 21, 6:30 pm
From Icosahedra to Eggs: Meet origami artist Faye Goldman as she shares her voyage of discovery. Starting with "Snapology," a paper-folding technique that uses strips of paper, she launched into the creation of amazing and beautiful geometric designs, using ribbon to create polyhedra, "eggs," and a series of donut shapes known as tori.
Meet the Artist: Workshop led by Uyen Nguyen
Tuesday, December 10, 6:30 pm
Engineer-turned-artist Uyen Nguyen, who uses origami to explore mathematical concepts like the Fibonacci sequence, various symmetries, and flat-foldability, returns to MoMath to lead a hands-on folding workshop. Make your own multistable paper column, reminiscent of the artist's amazing origami purse! Learn more and register at foldingfashion.momath.org.

Meet the Artist: Origami artist Adrienne Sack
Tuesday, December 17, 6:30 pm
Some traditional fabric manipulation techniques used in textiles and fashion for centuries have striking similarities to origami tessellations that have appeared independently in the last twenty years. Two of these techniques are North American smocking and plisseur. These methods use very different processes and materials to produce very similar results. Join origami artist Adrienne Sack in a discussion of the history of these techniques and an exploration of how origami tessellations are applied to textiles and other materials.
If available, tickets at the door for these events will incur an additional charge. Absolutely no refunds or exchanges. All sales are final.