Rubik's Cube for Ordinary People
An online four-session minicourse with Paul Zeitz — now with a fifth session!


Tuesdays, 6:30 pm to 7:45 pm
March 3, 10, 17, 24,

and 31


(Catch-up video available now.)
If you can already solve a cube and want to get your speed down to under a minute, this is NOT the course for you! Investigate the Rubik's Cube, learn some of the math behind it, and develop your own individualized solution strategy. By the end of this online four-session minicourse (now with an extra, fifth session!), you'll not only be able to solve the cube in under an hour, but you'll also understand WHY your solution strategies and tactics work.
New registrants welcome! This minicourse has already started, but materials and a catchup video are available for those who missed the first four sessions. The final session on March 31 will be conducted during a live videoconference.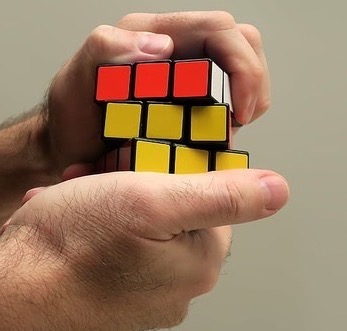 This minicourse is for adults and mature children ages 12 and up (accompanied by at least one parent or guardian). Children ages 12 to 15 without an accompanying parent or guardian and children ages 11 and under will not be admitted, and refunds will not be given.
Participants should have available one or two Rubik's cubes.
When
March 3, 2020 6:30 pm through March 31, 2020 7:45 pm
Location
MoMath Online
NY
United States