Math Encounters is a public presentation series celebrating the spectacular world of mathematics and presented by the Simons Foundation and the Museum of Mathematics. For further information, call the Museum of Mathematics at (212) 542-0566 or e-mail mathencounters@momath.org.
Click here to see music, movies and images from Scott's talk!
Download the amibgrams handout from the presentation!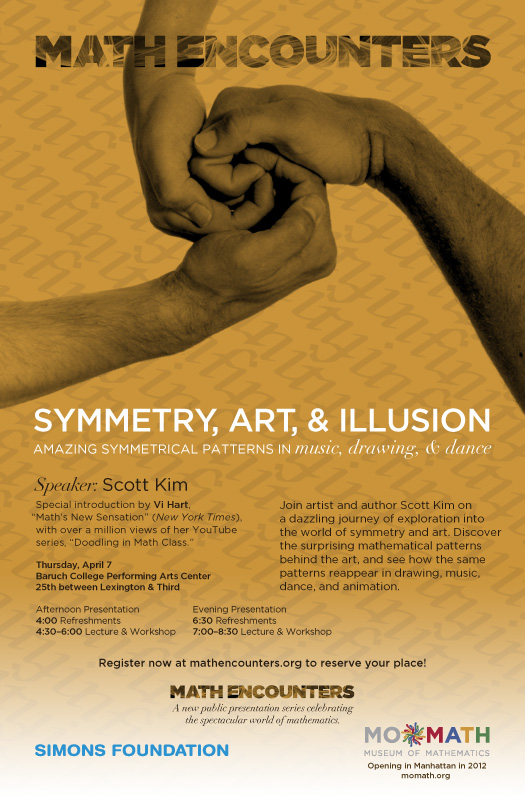 Join artist and author Scott Kim on a dazzling journey of exploration into the world of symmetry and art. Discover the surprising mathematical patterns behind the art, and see how the same patterns reappear in art, music, dance, and animation. Audience members are also invited to participate in a hands-on workshop with Scott, where they will learn to draw their own symmetrical ambigram lettering designs (as featured in the book Inversions), play with symmetrical rhythmic patterns, and join in a full-body investigation of symmetry.
Please note, this presentation is designed to be accessible and engaging to a general audience. As a rule of thumb, it would best be enjoyed by participants age 12 and up.
For a limited time, we are offering books authored by Scott Kim through our online shop. Each purchase made from our shop will help the Museum open its doors in 2012.
When
April 7, 2011 6:30 pm through 8:30 pm
Location
Baruch College Performing Arts Center




25th between Lexington and Third




New York

,

NY

10010




United States