Pythagorize Seattle 2017: Puzzle Hunt Registration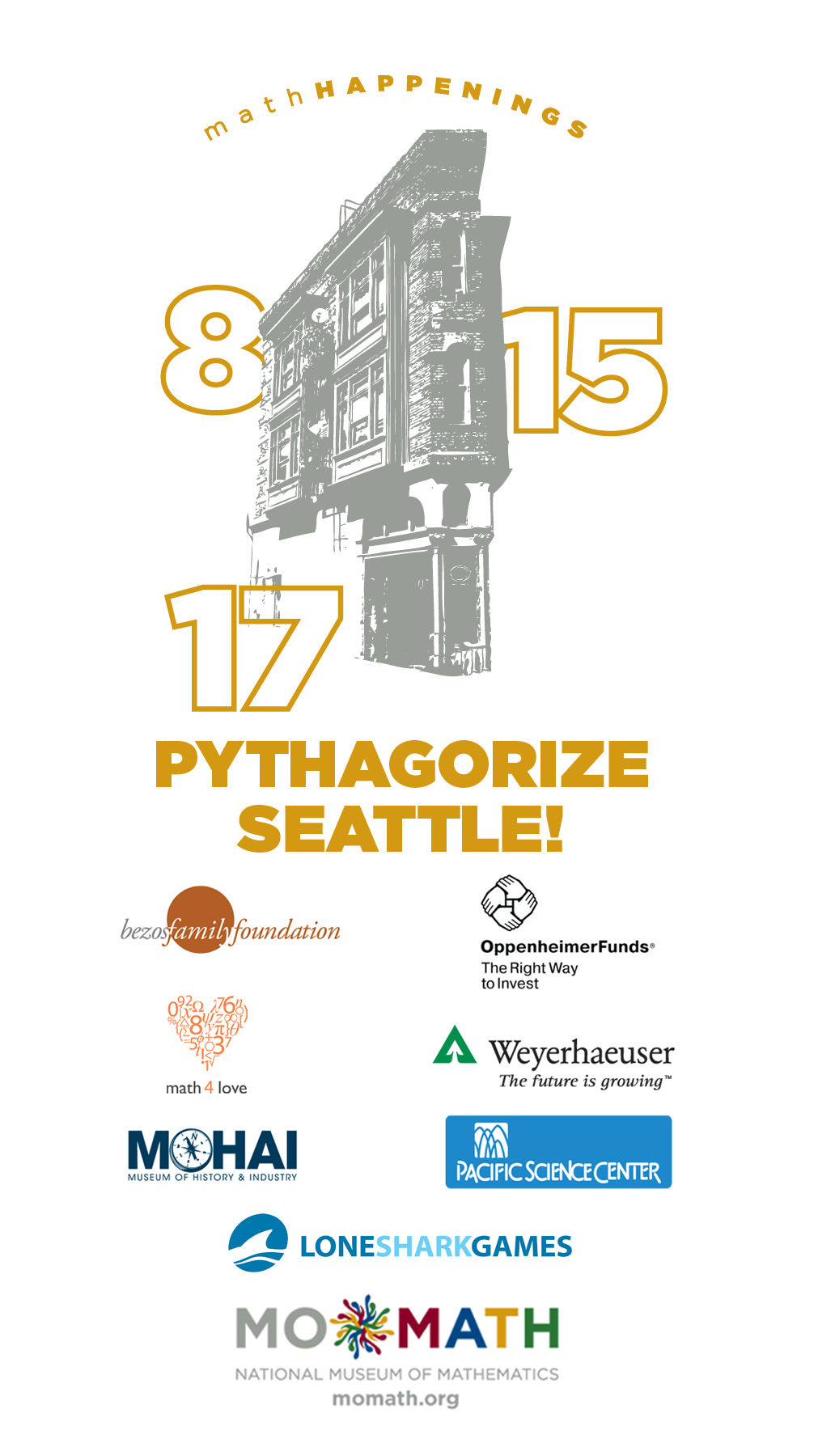 For over two thousand years, the Pythagorean Society, a secretive and powerful group of mathematicians and philosophers, has worked behind the scenes to foster a love of math and music in all civilizations. The Society still exists, and players must complete several challenges hidden throughout Seattle to be accepted into its ranks.
Sharpen your wits and assemble your team of ace solvers without delay. Recruitment activities will begin on Friday, August 11, 2017 — be ready to answer the call!
Register now for the puzzle hunt.
Frequently Asked Questions
What is Pythagorize Seattle 2017?
Join the National Museum of Mathematics as we return to Seattle to celebrate another Pythagoras Day — the last until 2024! Learn more at seattle.momath.org.
What is a puzzle hunt?
A puzzle hunt is a location-based game where players assemble in real life to solve puzzles at checkpoints. The puzzles are all location-specific, meaning you must go to the location to solve its puzzle. After a series of puzzles and locations, teams that can tie together the individual answers to solve the "metapuzzle" will complete the challenge and take home a souvenir! To collect the souvenir, you must attend the culminating event on Tuesday evening, August 15, 2017.
What is the recommended team size? Can I bring my kids?
Play alone, or bring your friends and family. We welcome all types of teams! While there are no restrictions on the number of players per group, we do recommend a team size of four for optimal game experience. With regard to age or mathematical background, this puzzle hunt is designed to engage adults and families alike. We think there is something for everyone to enjoy, whether you are an experienced puzzle solver or a young, budding mathematician.
How long will this puzzle hunt take?
That's mostly up to you! Whether you have just an hour or the entire weekend, this puzzle hunt can accommodate your schedule. The puzzle hunt is broken up into individual checkpoints; each checkpoint stands on its own as a puzzle, and all answers will tie together into a metapuzzle should you choose to solve the entire set of puzzles. This puzzle hunt will not be timed or scored, and you may solve at your leisure. The length of time you spend on this puzzle hunt will be a combination of solving time, travel time, and leisure time. Total solving time will be approximately 2 to 4 hours. Travel time will vary based on your mode(s) of transportation, but expect locations to be in or near the greater downtown Seattle area. In addition, puzzle locations were carefully chosen to highlight Seattle's rich landscape through the lens of mathematics; we encourage setting aside time to leisurely explore these locations once you complete each puzzle.
What kind of puzzles are in this puzzle hunt? How do I solve them?
There are many types of puzzles, but all of them will highlight mathematics in some way. You will receive puzzle location data through a website, so a smart phone is required. The puzzle website will be available from kick-off on August 11, 2017 through August 15, 2017. To solve each puzzle, you will need to physically visit locations in Seattle. This puzzle hunt cannot be completed remotely. Hinting is provided through the site; however, each checkpoint will be staffed at specific times on Friday, Saturday, and Sunday (August 11-13, 2017) by real humans who can guide you through the solving process and make sure that you are having fun.
How much is the registration fee?
This puzzle hunt is free to the public! This high-quality, unique puzzle hunt was made possible by the Bezos Family Foundation, OppenheimerFunds, and Weyerhaeuser to illuminate the beauty of mathematics. All checkpoints will be accessible without charge; however, you may wish to carry some money to purchase admission to areas beyond the checkpoints, such as a nearby museum, park, or attraction.
Who designed this puzzle hunt?
This custom puzzle hunt was created by Lone Shark Games, a game company based in Redmond, Washington that created the interactive puzzle novel The Maze of Games, and features Lone Shark puzzle designers Tanis O'Connor, Mike Selinker, and Gaby Weidling.
Are there prizes?
All teams participating in the puzzle hunt will be eligible to take home a souvenir t-shirt. To collect the souvenir, you must attend the culminating event on Tuesday evening, August 15, 2017. T-shirts will be given out to each registered player while supplies last.
Is there truly a Pythagorean Society?
No, unfortunately. Or is there...?
This event description is not a puzzle.
Friday, August 11, 2017 10:00 am through Tuesday, August 15, 2017 8:00 pm