Meet the Authors!
Wednesday, March 29 at 6:00 pm ET
(online)
All four authors will now be present at tonight's event!
Join David Smith, Joseph Samuel Myers, Craig Kaplan, and Chaim Goodman-Strauss, authors of the groundbreaking paper "An Aperiodic Monotile," as they discuss their exciting mathematical discovery of the Hat, the first-ever shape that can tile the plane endlessly but only without ever quite repeating the pattern. Have your questions answered — or just enjoy the lively discussion — at this interactive Q&A session!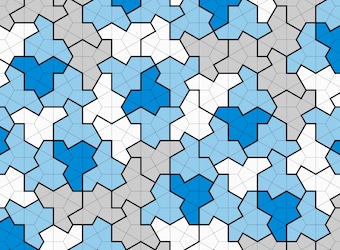 Did you miss the debut presentation about the Hat? Check out this video of the authors sharing the story behind the discovery.
Inspired by the Hat? MoMath and UKMT will be sponsoring a contest for creative projects using the Hat. Sign up to be notified when contest details are announced!
When
March 29, 2023 6:00 pm through 7:00 pm
Location
MoMath Online
United States
Event Fee(s)
| | |
| --- | --- |
| Registration | |
| Free registration | $ 0.00 |
| Donation | $ 25.00 |