Meet a Mathematician:
Dr. Emille Davie Lawrence
Thursday, January 26 at 4:00 pm ET (New York)
(online)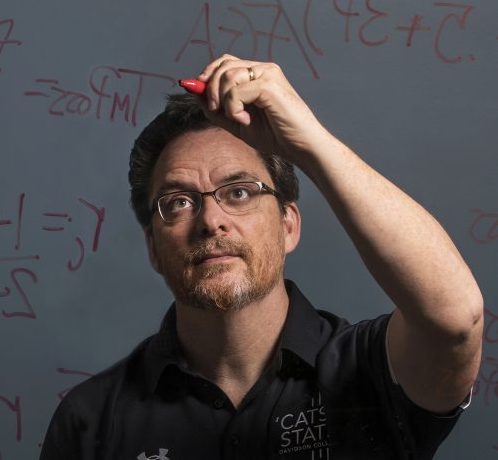 Did you ever wonder what a mathematician does all day? Or what made someone decide to become a mathematician? Or even, what a mathematician does for fun? You may be surprised by some of the answers! Join Tim Chartier, MoMath's 2022–2023 Distinguished Visiting Professor, as he brings diverse and talented guests to the MoMath stage to share their experiences, their stories, and their love of mathematics.
In January, meet Dr. Emille Davie Lawrence. Dr. Davie Lawrence is an associate professor of mathematics at the University of San Francisco. A low-dimensional topologist, she researches topics such as braid groups, geometric group theory, and spatial graphs. She co-edited Living Proof: Stories of Resilience Along the Mathematical Journey, which received the 2022 Euler Book Prize from the Mathematical Association of America. Whether speaking at the National Math Festival, on a Scientific American podcast, or to groups at schools or colleges, Dr. Davie Lawrence enjoys getting audiences interested in mathematics. She is also an advocate for broadening participation in the mathematical sciences through outreach and mentoring.
Please note that this is an online-only event; all registrants will be participating remotely. Occasional video recordings are made available for a fee at videos.momath.org.
When
January 26, 2023 4:00 pm through 5:00 pm
Location
MoMath Online
NY
United States
Event Fee(s)
| | |
| --- | --- |
| Registration | |
| Free event registration | $ 0.00 |
| Free for MoMath members | $ 0.00 |
| Free event plus $15 donation to support families in need | $ 15.00 |
| Fee waived (for families with financial need; max 1 session per family) | $ 0.00 |