Volumes, the MoMath book club
Wednesday, July 20 at 6:30 pm ET (New York)
(online)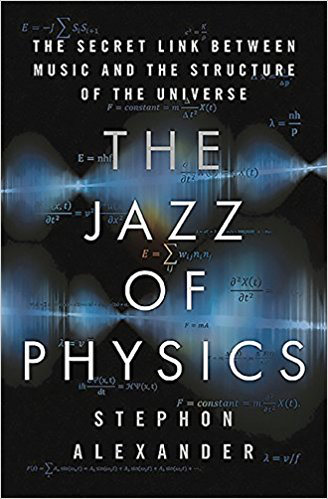 Volumes continues! Join Distinguished Visiting Professor Steven Strogatz and author and theoretical physicist Stephon Alexander for an online discussion of Alexander's The Jazz of Physics.
More than fifty years ago, John Coltrane drew the twelve musical notes in a circle and connected them by straight lines, forming a five-pointed star. Inspired by Einstein, Coltrane put physics and geometry at the core of his music. Physicist and jazz musician Stephon Alexander follows suit, using jazz to answer physics' most vexing questions about the past and future of the universe. Following the great minds that first drew the links between music and physics — a list including Pythagoras, Kepler, Newton, Einstein, and Rakim — The Jazz of Physics reveals that the ancient poetic idea of the "Music of the Spheres," taken seriously, clarifies confounding issues in physics.
Order your book today from Additions, the shop at MoMath, and help support the nation's only Museum of Math while also scoring free admission to this engaging conversation with author Stephon Alexander about his quest to unite music and science. Just place your order online by July 13 or stop by the shop, then forward or email an image of your receipt to additions@momath.org and you will be registered, free of charge, for this interesting group discussion hosted on Zoom.
This is an online-only event; all registrants will be participating remotely. Occasional video recordings are made available for a fee at videos.momath.org.
When
July 20, 2022 6:30 pm through 7:30 pm
Location
MoMath Online
United States
Event Fee(s)
| | |
| --- | --- |
| Registration | |
| Free registration (while supplies last) | $ 0.00 |
| $15 donation to support families in need | $ 15.00 |