A Rolling Square… Bridge?!
Featuring Stan Wagon, Thomas Randall-Page, and Alfred Jacquemot
Hosted by Matt Parker
Saturday, June 10 at 1:00 pm ET
(online)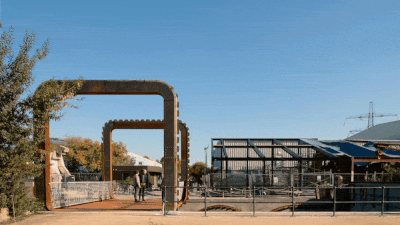 MoMath is known around the world for its Square-Wheeled Tricycle based on an original design by mathematician Stan Wagon, but now, there's a new rolling square that takes innovation and design to an entirely new level! Join MoMath, Stan Wagon, and designers/engineers Thomas Randall-Page and Alfred Jacquemot, creators of the Cody Dock Rolling Bridge, for an hour-long discussion about this award-winning new bridge. Hosted by math-loving author, You-Tuber, and outreach expert Matt Parker (Humble Pi: When Math Goes Wrong in the Real World), this session will allow us to take an inside look at the inspiration, design, innovation, and mathematics that brought the world an amazing new use for a rolling square.
_____________
About the Cody Dock Rolling Bridge
Designed by Tom Randall-Page with engineering support from Price & Myers and fabrication by Cake Industries, the contemporary design of Cody Dock Rolling Bridge is an exciting new twist on a moving bridge whilst celebrating the surrounding area's rich historical links with Edwardian industrial design & local iron production.
The Cody Dock Rolling Bridge provides accessibility for pedestrians, cyclists and boats in an ex-industrial facility built in 1871. The weathering steel and oak structure aims to help regenerate the former coal-handling area of Cody Dock and to reactivate a currently underused community asset, Lea River Park and Cody Wilds.
The Cody Dock Rolling Bridge was the winner of The Bridges Design Award 2023.
When
June 10, 2023 1:00 pm through 2:00 pm
Location
MoMath Online
United States
Event Fee(s)
| | |
| --- | --- |
| Registration | |
| Event fee optional | $ 0.00 |
| Event fee | $ 15.00 |
| Event fee plus $15 donation to support families in need | $ 30.00 |