Math Encounters:
"The Lonely Runner: an unsolved mystery of mathematics"
featuring Matthias Beck
Wednesday, April 13 at 4:00 pm ET (New York)
(online)
The Lonely Runner Conjecture is an (in)famous open problem in combinatorial number theory: if n runners with different (constant) speeds move around a circular track of length 1, then for each runner there will be a time when they have distance at least 1/n to the others. How did this problem come about, how is it related to the approximation of real numbers by rationals, and how can we visualize this problem using two- or three-dimensional shapes? Join mathematician Matthias Beck as we explore this fascinating mathematical mystery.
Special introduction by Nathan Kaplan, Associate Professor of Mathematics at University of California, Irvine.
This is a live-streamed broadcast of an in-person event. Occasional video recordings are made available for a fee at videos.momath.org.
This page is for the 4:00 pm ET (New York) live-streamed session. Click here to register for an in-person session or for the 7:00 pm ET (New York) live-streamed session instead.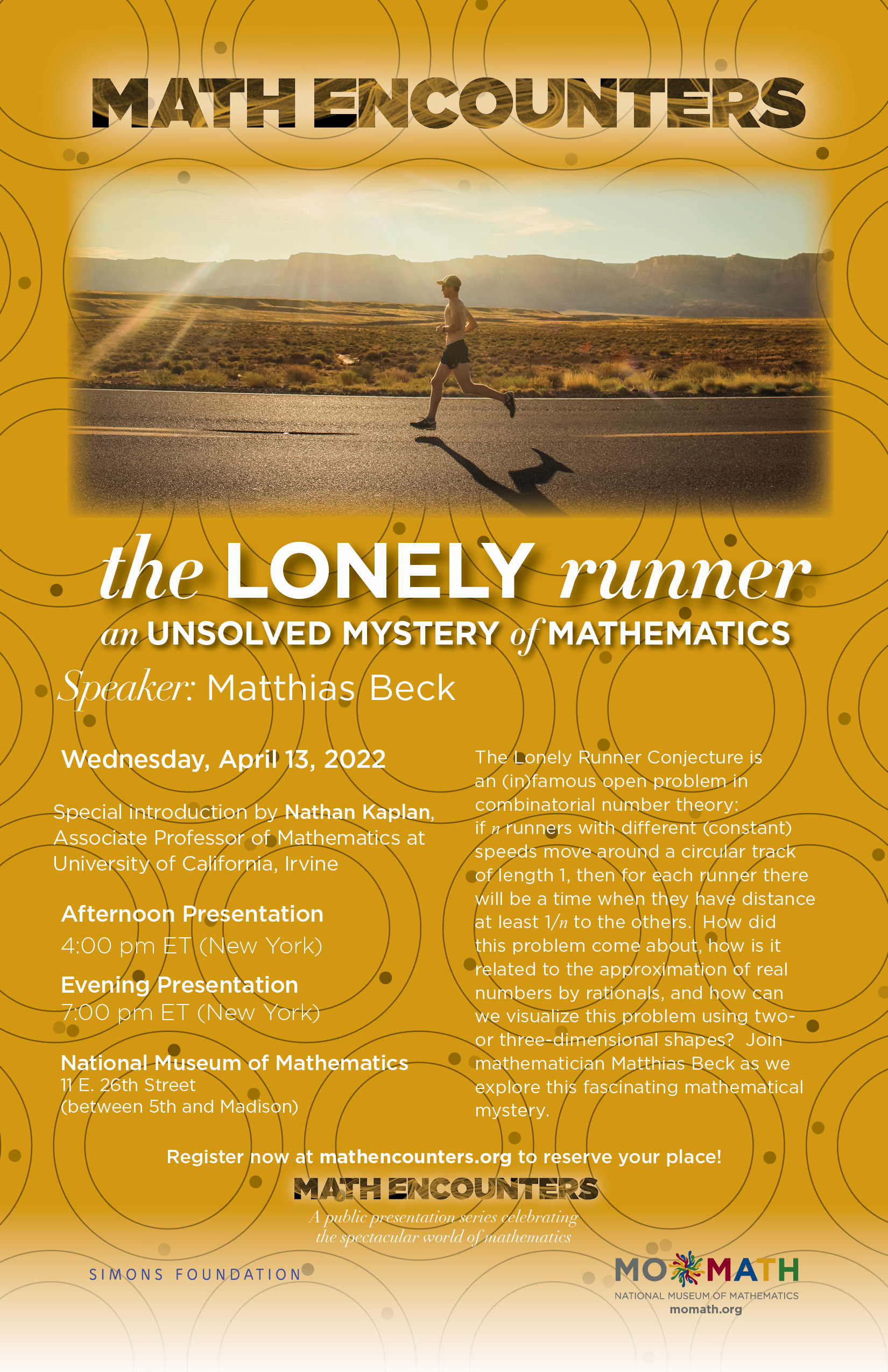 By registering for a Math Encounters presentation, you acknowledge that you may be photographed or videotaped by Museum staff and associates and agree to abide by the MoMath General Policies for Events and Photograph Release.
Math Encounters is MoMath's popular free public presentation series celebrating the spectacular world of mathematics, produced with support from the Simons Foundation.
For further information, call the National Museum of Mathematics at 212-542-0566 or email mathencounters@momath.org.
Please check our online shop for books by Math Encounters presenters.
When
April 13, 2022 4:00 pm through 5:30 pm
Location
MoMath Online
NY
United States