Dimensions: the MoMath Puzzle Hunt
Registration Information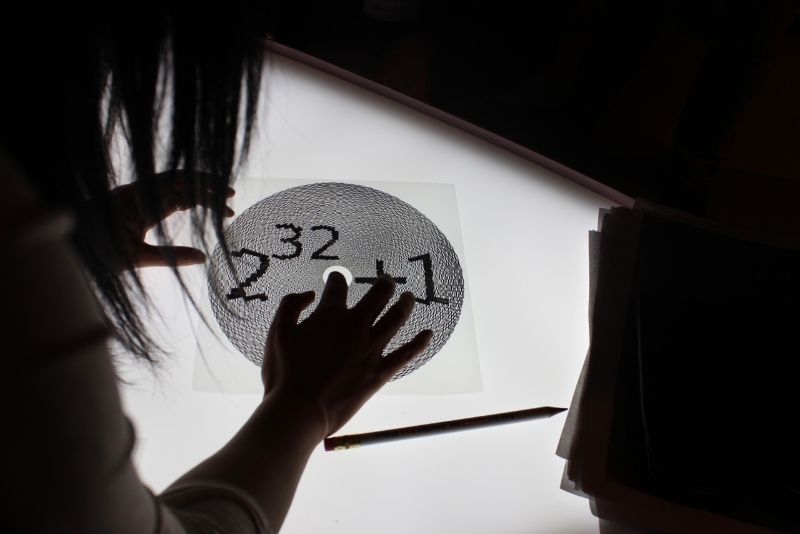 Do you enjoy puzzles? Do you like to spend the weekend with friends? Now you can combine both into one!
The National Museum of Mathematics is proud to once again present its own unique day of puzzle-solving adventure. Our puzzle hunt is a thrilling, competitive, and addictive way to spend an afternoon or weekend with friends and family, tracking down clues and solving riddles. "Dimensions: the MoMath Puzzle Hunt" is meant for intrepid experts and bold novices alike, to be solved at the Museum over the course of a few hours, and features word puzzles, logic puzzles, secret codes, and prizes.
If you are new to puzzle hunts, this is a gentle introduction designed to addict you to a lifetime of puzzle hunting. If you are a seasoned solver, you will enjoy the opportunity to spend a couple hours solving high-quality puzzles and possibly winning a trophy.
Last year's hunt was a huge success, as more than 20 teams, featuring a wide cross-section of players from high school students to hedge fund analysts, battled it out to find a missing number among MoMath's many exhibits.
This year's Dimensions Hunt, constructed by a team of puzzle writers from all over the U.S., is a multilayered tribute to the brilliant mathematician and war hero Alan Turing, who was instrumental in breaking enemy codes during World War II.
If your team of co-workers, classmates, pub trivia pals, or karaoke buddies is ready to take on the challenge, you can sign up for a unique afternoon of camaraderie, games, and fun. We recommend teams of 3-5 people. If you don't have enough for a team, we will help match you with others at the start of the event.
"Dimensions: the MoMath Puzzle Hunt" is slated for Saturday, December 14, 2013. Registration begins at 3:00 pm and the hunt kicks off at 3:30 pm. This event is recommended for adults and high school students.
Specials thanks go to this year's puzzle editor Nathan Curtis, an International Mathematical Olympiad gold medalist and puzzle enthusiast, and assistant editor Francis Heaney. Puzzle constructors include: Roger Barkan, Michael Cahill, John Chaneski, Rod Kimball, Michael Korn, Pete Muller, Lance Nathan, NexToy, Dan Stronger, and Wil Zambole.
Organizations interested in sponsoring the event, or in sponsoring a specific corporate or high school team, can email puzzlehunt@momath.org for more information.
Please be aware that online registration for Dimensions will close at 11:59 pm EST today, Friday, December 13. People may register at the door on December 14 for $40 per person.
When
December 14, 2013 3:00 pm through 7:30 pm
Location
National Museum of Mathematics




11 East 26th Street




New York

,

NY

10010




United States
Event Fee(s)
| | |
| --- | --- |
| Dimensions Puzzle Hunt ticket | $ 30.00 |