Math Encounters
Math Encounters is MoMath's popular public presentation series celebrating the spectacular world of mathematics, produced with support from the Simons Foundation.  For further information, call the National Museum of Mathematics at (212) 542-0566 or e-mail mathencounters@momath.org.
Next presentation:
"Movie Magic" Sept 3 at 4:00 PM
by Eitan Grinspun
"Movie Magic" Sept 3 at 6:30 PM
by Eitan Grinspun
Visit a world where mathematics and entertainment intersect: the world of modern computer-based animation.  Join mathematician Eitan Grinspun as he takes us on a journey through the intertwined history of mathematics and animation, from early hand drawings to the latest sophisticated renderings of three-dimensional surfaces on two-dimensional screens, and beyond that to the perplexing questions that mathematicians research today to create the animations of tomorrow.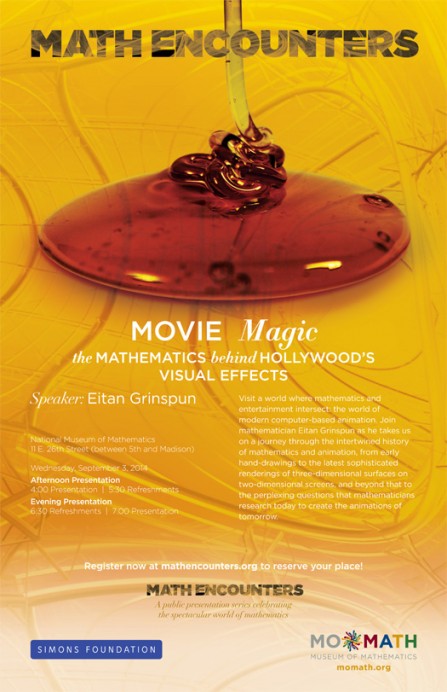 Photography notice
By registering for a Math Encounters presentation, you agree that you may be photographed or videotaped by Museum staff and associates.
Books by the speakers
We are happy to offer books edited or authored by Math Encounters speakers through our online shop.
Math Encounters

available on YouTube and DVD

Math Encounters presentations are generally posted to our YouTube page within 1-2 months of filming.  Due to copyright issues, some presentations may not be reproduced on the Internet. Presentations posted online are also available for purchase via our online shop.  Click here to purchase yours today!