Math Encounters
Math Encounters is MoMath's popular public presentation series celebrating the spectacular world of mathematics, produced with support from the Simons Foundation.  For further information, call the National Museum of Mathematics at (212) 542-0566 or e-mail mathencounters@momath.org.
Next presentation:
"Shaping Surfaces" Dec 3 at 4:00 PM
by Chaim Goodman-Strauss
"Shaping Surfaces" Dec 3 at 6:30 PM
by Chaim Goodman-Strauss
Nature melds living surfaces from the geometry of curvature.  Corals, leaves, lichens — even membranes and ears — all living surfaces are shaped through exquisite control over this intrinsic geometry, even as those surfaces flex, twist, and grow. Explore fundamental topological principles with mathematician Chaim Goodman-Strauss, and see the surprising beauty and simplicity of the underlying principles that control the geometry of surfaces.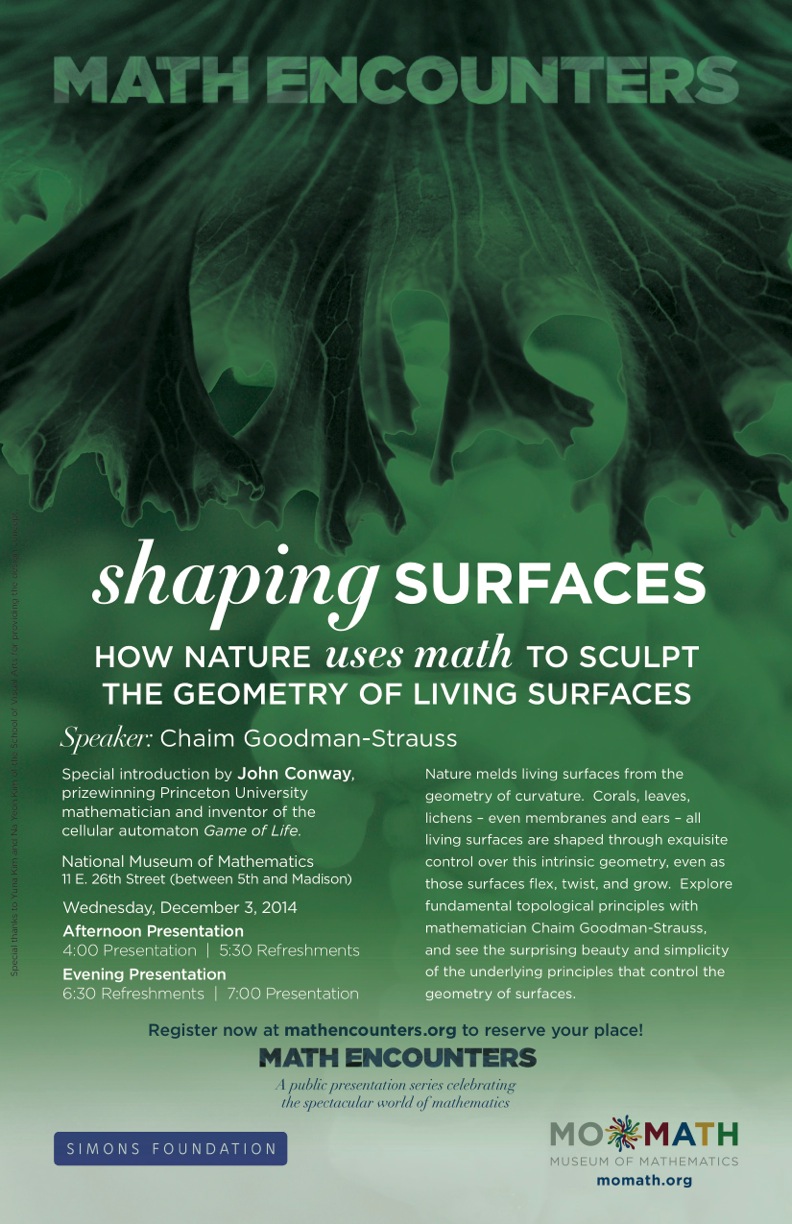 Photography notice
By registering for a Math Encounters presentation, you agree that you may be photographed or videotaped by Museum staff and associates.
Books by the speakers
We are happy to offer books edited or authored by Math Encounters speakers through our online shop.
Math Encounters

available on YouTube and DVD

Math Encounters presentations are generally posted to our YouTube page within 1-2 months of filming.  Due to copyright issues, some presentations may not be reproduced on the Internet. Presentations posted online are also available for purchase via our online shop.  Click here to purchase yours today!