Tween Primes
MoMath brings its popular Volumes book club to a younger audience. Like to read? Like math or wish you did? Come to Tween Primes, the MoMath book club for Tweens and Teens (ages 10-15). Pizza, ice cream, and good math reads: What better way to spend an evening?
Ruby Redfort Take Your Last Breath
by Lauren Child
Wednesday, April 26, 4:30 pm
As the book opens, Spectrum agent Ruby is at dive school in Hawaii, confronting one of her few fears (claustrophobia) and ignoring the sharks around her. Back home in Twinford, you can be sure both of these elements will resurface — along with pirates who are trying to kill her parents, messages sent over Muzak radio stations, a peculiarly potent sea monster, family legends featuring brave little girls and large gemstones, and the return of the evil Count von Viscount.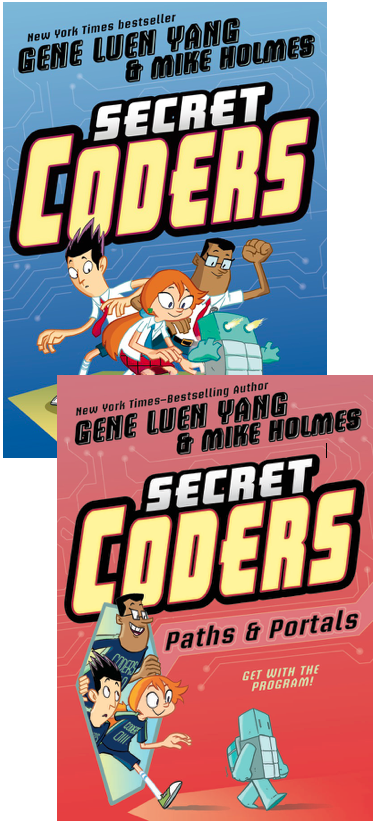 Secret Coders and Secret Coders: Paths & Portals
by Gene Luen Yang
Wednesday, May 24, 4:30 pm
Secret Coders Welcome to Stately Academy, a strange school that is just crawling with mysteries to be solved! The founder of the school left many clues and puzzles to challenge his enterprising students. Hopper, a new student, and her friend, Eni, start to discover and then solve many of the school's puzzles. Sadly, not everyone is happy about this — especially Mr. Bee, the school janitor. Using their wits and their budding computer coding skills, Hopper and Eni decide to solve the mystery of Stately Academy, no matter what it takes!
Secret Coders: Paths & Portals There's something lurking beneath the surface of Stately Academy — literally. In a secret underground classroom, Hopper, Eni, and Josh discover that the campus was once home to the Bee School, an institute where teachers, students, and robots worked together to unravel the mysteries of coding. Hopper and her friends are eager to follow in this tradition and become top-rate coders. But why are Principal Dean and the rugby team suddenly so interested in their extracurricular activities?
Upcoming Tween Primes Selections
(Schedule subject to change)
Start reading today!
| | | | |
| --- | --- | --- | --- |
| • June | 2017 | — | Lost in Lexicon: An Adventure in Words and Numbers by Pendred Noyce |
Prior Tween Primes Selections
• The Adventures of Penrose the Mathematical Cat by Theoni Pappas
• Hidden Figures, Young Readers' Edition by Margot Lee Shetterly
• The Phantom Tollbooth by Norton Juster
• Ruby Redfort Look Into My Eyes by Lauren Child
• The Number Devil by Hans Magnus Enzensberger
• The Prince of Mathematics: Carl Friedrich Gauss by M. B. W. Tent