MoMath Winton Power Series
Calling all mathematicians and math professionals: thanks to the generosity of Winton Capital Management, MoMath has a lecture series with you in mind. The MoMath Winton Power Series is targeted at a mathematically sophisticated audience, and provides a forum for top mathematicians to share a significant topic or discovery they are excited about. Each presentation will be followed by a question and answer session and an informal reception. MoMath is delighted that Steele Prize winner and Fellow of the American Mathematical Society Ron Graham will soon be following up Tim Gowers' inaugural Winton Power Series address. For further information, call the National Museum of Mathematics at (212) 542-0566 or e-mail functions@momath.org.


Upcoming presentation:
Computers and Mathematics: Problems and Prospects
2014 May 4 at 5:30 PM — Ron Graham
There is no question that the recent advent of the modern computer has had a dramatic impact on what mathematicians do and on how they do it. However, there is increasing evidence that many apparently simple problems may be forever beyond any conceivable computer attack. Join Ron Graham as he describes the roles computers have played, may have played, or will probably never play in solving a variety of mathematical problems.
Click here to register.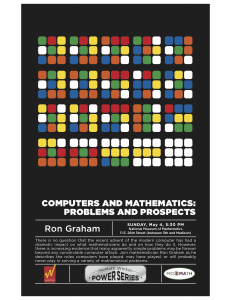 The National Museum of Mathematics gratefully acknowledges the support of Winton Capital Management, which makes this public presentation series possible.
Photography notice
By registering for a MoMath Winton Power Series presentation, you agree that you may be photographed or videotaped by Museum staff and associates.
Previous Power Series presentations