The 2021 MoMath Gala
Building Beauty:
the math of art, engineering, and design
Tuesday, October 26
7:00 pm to 8:30 pm ET (New York)
VIP Meet-and-Greet starts at 6:15 pm
(online)
Donate to the 2021 MoMath Gala
Click here to explore MoMath's virtual gallery, Building Beauty.
The gala attracted more than 500 people from all across the United States and from many countries around the world, including Australia, Canada, China, Costa Rica, Germany, India, the Netherlands, and the United Kingdom.
_____________
View clips from the 2021 gala below.
Meet the Designers
Anton Bakker's Perspectives Game
Pete Muller performs Don't Fence Me In with encore featuring Marcus Miller

Good Vibrations Harmonograph Slideshow
_____________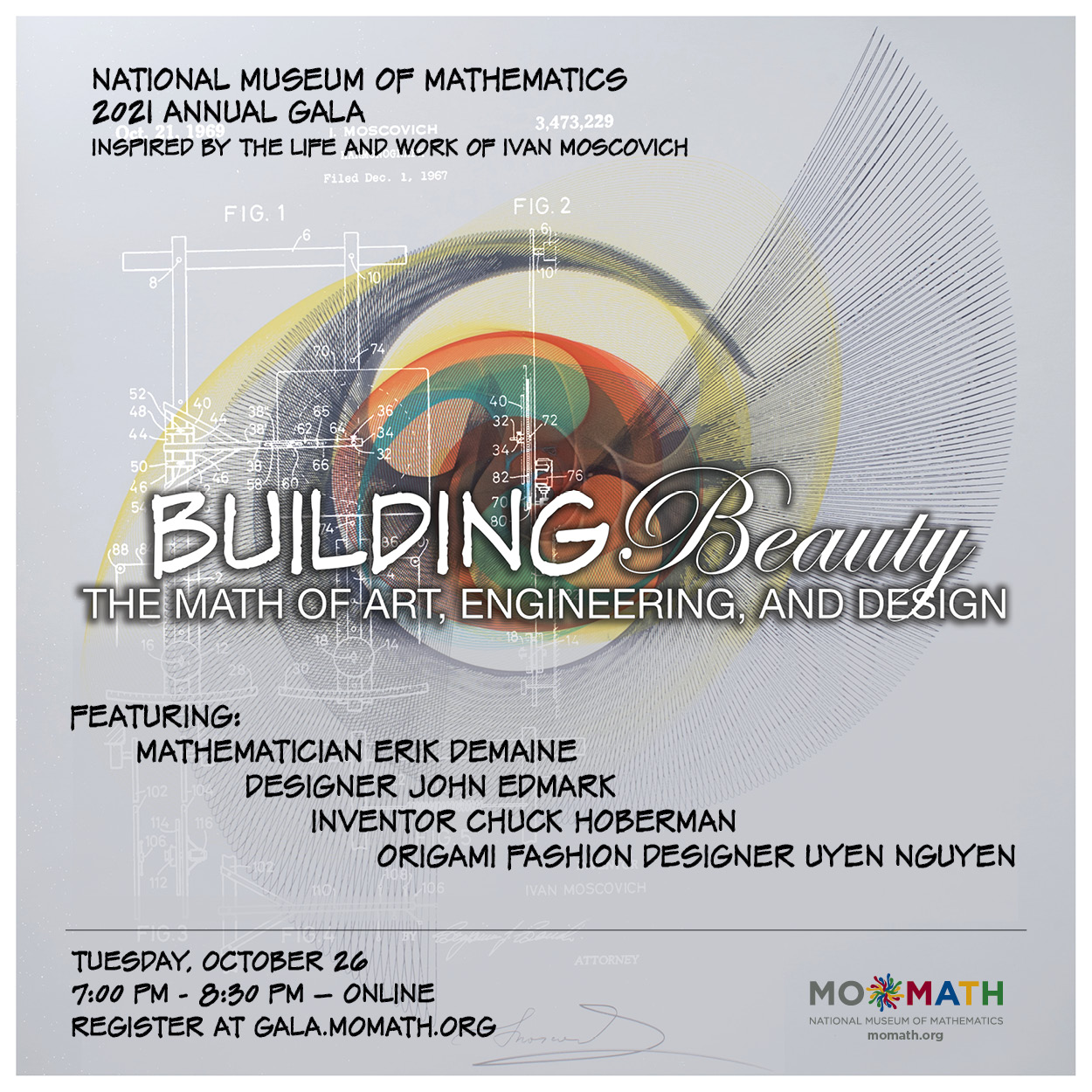 Building Beauty: the math of art, engineering, and design features a panel discussion with four amazing mathematical creators: mathematician Erik Demaine, designer John Edmark, inventor Chuck Hoberman, and origami fashion designer Uyen Nguyen. Join MoMath for this not-to-be-missed evening celebrating the intersection of invention, imagination, and mathematics.
Hosted by MoMath's 2021-2022 Distinguished Visiting Professor for the Public Dissemination of Mathematics, Steven H. Strogatz.
_____________
MoMath is grateful to the supporters of the 2021 gala.
_____________
The program for the 2021 MoMath gala is available at gala2021program.momath.org. Click here for an interactive version of the program.
_____________
Check out photos, videos, and press from past galas:
Gala 2020: Real and Rational
Gala 2019: Symmetry Soirée
Gala 2018: Play Ball
Gala 2017: Fibonacci Fête
Gala 2016: Race to the Finish
Gala 2015: Party Under Construction
Gala 2014: Chaos Ball
Gala 2013: Illuminating Mathematics
Gala 2012: MoMath Opening Ceremony
_____________