Family Fridays at MoMath presented by Time Warner Cable
Family Fridays is designed to bring families together to enjoy a diverse array of engaging mathematical activities, promoting interest and enthusiasm among kids and adults alike. The activities are designed so that all attendees, regardless of age, can participate on an equal footing.  Thanks to the generous support of Time Warner Cable, this program is free to attendees as part of Time Warner Cable's Connect a Million Minds campaign, so that these enriching experiences will be accessible to as broad an audience as possible.
Next presentation:
"Playful Geometry" July 8 at 6:30 PM
with Ann Schwartz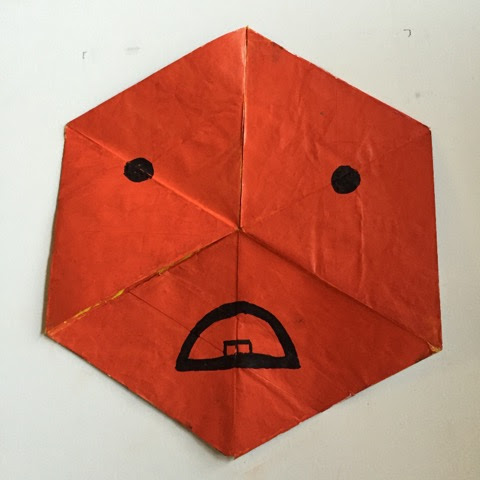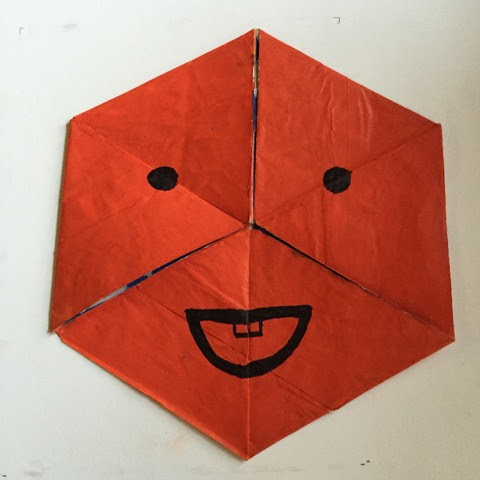 Flexagons are fascinating — and challenging! — geometric puzzles. Anyone who can fold a piece of paper can transform these paper strips into hexagons and squares. But can you flex them to reveal the colors hidden in the folds? Flexagon expert Ann Schwartz will share the surprising geometry that allows multiple faces to appear and disappear like magic. Decorate your own to make a puzzle that's uniquely yours, take home one of Ann's newest models, and turn your night inside out with these intriguing paper constructions.
Please note, "Playful Geometry" is most appropriate for children ages 8 and older.
Previous
Family Fridays
• 2016 June 3 – Can You Spot It?
• 2016 May 13 – Mosaics and Honeycombs
• 2016 April 8 – Pool Party
• 2016 March 25 – Spiraling into Art and Nature
• 2016 February 26 – Puzzles and Paradoxes
• 2016 January 15 – Coloring Outside the Sines
• 2015 December 11 – Suspended Geometry
• 2015 November 13 – Let's Box!
• 2015 October 23 – Math Makes Music
• 2015 September 25 – Connecting with Geometry
• 2015 August 21 – Snapology
• 2015 July 24 – Folding Circles
• 2015 June 5 – Finding Freaky Fixed Points
• 2015 May 1 – Popping Up with Robert Sabuda!
• 2015 April 10 – Math Runes: Art with Functions
• 2015 March 13 – Cat & Mouse Games
• 2015 February 27 – ITSPHUN
• 2015 January 16 – Creature Cuts
• 2014 December 5 – Mathematical Puzzles and the "Tricks" You Need to Solve Them
• 2014 November 7  – Bead Geometry
• 2014 October 10  – Great Balls of Paper!
• 2014 September 12  – Crowdsourcing Origami
• 2014 August 22 – FlexiFun: A Night of Creative Construction
• 2014 July 11 – Curb Summer Learning Loss with Chocolate
• 2014 June 13 – How Not to Be Wrong
• 2014 May 2 – The X's and O's of Tic-Tac-Toe
• 2014 April 11 – Mathemagic with a Deck of Cards
• 2014 March 14 – MoMath's Pi Day Celebration
• 2014 February 7 – Scrabble with Friends: Strategies and Skills from the Pro
• 2014 January 24 – Love and Math
• 2013 December 13 – An Enigmatic Evening
• 2013 November 1 – The Simpsons and Their Mathematical Secrets
• 2013 October 25 – Thinking Caps
• 2013 September 27 – The Secret Life of Squares
• 2013 August 23 – Elastegrities: How to Make Them! (And What They Are)
• 2013 July 19 – Folding in Geometry
• 2013 June 28 – Filling the Grid: Scrabble Strategies and Stories from the Pro
• 2013 May 24 – Piano Puzzler Proofs
• 2013 April 26 – Crackers, Oranges, and Pringles
• 2013 March 15 – Can You KenKen?
• 2013 February 10 – Family Fun Workshop Feb 2013